You've probably noticed the radio interview announcement to the left. Here's an author journal confession: I'd rather design the announcement than do the interview. If I sound nervous, it's because I am. The interview is set for between 8 and 9 pm Pacific Time, Tuesday, March 12th. That's a time I'd normally be getting ready to slide into bed with a book, not talk before an international audience LIVE. (Thank you for listening.) Not to worry if you are reading this after the event. You can listen to a recording at the Alive in Christ Radio Network website.
This month, in fact, is all about stretching and growing as a public speaker. Yep, everyone's favorite thing to fear is what I've taken it into my head to go out and do. I'll be at the Inland Northwest Christian Writers Conference in Spokane next weekend teaching several classes and doing private social media and branding consultations with my friend and business partner, Melissa K. Norris. I'll barely be home before I'll be speaking at a meeting of the Northwest Christian Writers' Association's Fiction Writers Group. There are other events coming up, but if you're interested, you can discover them by going to the speaker page for Janalyn Voigt and clicking on the calendar icon at the bottom of the page.
I don't like having to step out of my comfort zone, but I do want to share the message that burns within me. I won't preach it here, except to say that most people live unexamined, purposeless lives, and that's a shame. There's so much more. If you aren't sure you're living your life fully, you might want to listen to the interview.
In news of interest to writers, I've completed, together with Melissa K. Norris, the first draft of a book on author branding. We still have to edit, have it beta read, and add some cool touches, so we won't release it until September. However, we've made part of it available in a workbook at the website we put together for our new business, TriLink Social Media Mentors.
At some point I'm going to have to plan this year's research trip to Montana. I've been putting it off due to being so busy, but it's March already so I can't ignore it much longer. I'm looking forward to a road trip with my husband this time! He shares my love of history and is observant and bright, so I'm looking forward to researching with him.
After last year's road trip to and from Texas within a month of the Grand Canyon trip, I'm laying low about attending any national writing conferences, however there is one factor that may get me to the ACFW Conference in Indiana this fall. I've entered DawnSinger in the Carol Awards. If it finals, I'll probably go to the conference so I can sweat profusely while waiting for them to name the winner. I'm up against some tough competition in the speculative fiction category, but I also entered DawnSinger in the debut novel category. That gives it an extra chance to final. I'll let you know how it goes.
I also have news on WayFarer (Tales of Faeraven 2). My editor at Harbourlight tells me that she's putting together the final galley now. So, if you've been waiting for the second book in my series, she told me it's safe to say it will release this year. My guess is that it won't be much longer. Of course, all of this is making me anxious to start DawnKing (Tales of Faeraven 3). It's had to wait behind other projects, but its time has come. I'm looking forward to immersing myself once more in the world of Elderland.
This journal has become a little lengthy, so I'd better stop chatting and let you go. Until next time, then.
©2014 by Janalyn Voigt
Subscribe to the Creative Worlds of Janalyn Voigt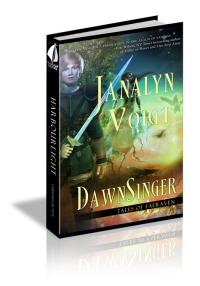 Need an escape?
DawnSinger, Tales of Faeraven #1 by Janalyn Voigt
A headstrong young princess and the guardian sworn to protect her fly on winged horses to the Gate of Life above the Well of Light in a desperate bid to release the DawnKing, and the salvation he offers, into a divided land. Will they each learn in time that sometimes victory comes only through surrender?
Purchase DawnSinger today!