Announcing the Creative Worlds book extra sites!
I've added subdomains by genre to Creative Worlds as a thank you to readers. Be sure to visit Fantasy Worlds, Historical Worlds, and Dangerous Worlds 
My Book News for July 2013:
What I'm working on right now: I'm completing DawnKing, book three in Tales of Faeraven, and have reached the midpoint of the book. I'm also editing Author Branding Made Simple with co-author Melissa K. Norris, for fall release.
Fantasy Fans: I haven't yet received a release date for WayFarer, book two of my Tales of Faeraven epic fantasy trilogy, but I'm turning my thoughts toward its launch. If you'd like to be part of the launch team (thank you), click here for details: WayFarer Launch Team.
And now for my big announcement: as a thank you for my readers, I've created Fantasy Worlds, my new book extras site, just for you. I hope you'll take a look at the site, which I designed to boost involvement with the fantasy worlds I create. You'll find an image that represents my vision for Lohen Keil, the Well of Light, on the Fantasy Worlds page and one depicting Gilead Riann, the Gate of Life, on the Tales of Faeraven page. Feel free to discover intriguing tidbits from my research, characters engaging in interviews with their author, and even to learn who I would cast if my books became a movie. Here you can explore Elderland in a myriad ways through the mind of its author. 

 Romantic Suspense Fans: As you may recall, I've been working with Lynnette Bonner and Lesley McDaniel on a linked romantic suspense series entitled Islands of Intrigue. I'm pleased to announce that the first book in the series is now available. For details about this book, visit the bookshop at my website.
 Historical Fiction Fans: I'm still waiting as editors deliberate whether to contract me to write Hills of Nevermore, the first book in my Montana Gold series, which is set at a time of unrest in the American West when outlaws, corruption, and vigilantes held sway. I'll keep you posted on developments. No news yet.
Author Branding Made Simple: Together with my TriLink Social Media Mentors business partner, Melissa K. Norris, I'll release Author Branding Made Simple in September. As part of the launch events, we'll teach a two-hour social media class for NCWA in September. We're also slated to teach our Solving the Pinterest Course at an event hosted by another local writers' group in October, and we're booked to teach on branding and Pinterest at the NCWA Renewal conference in May 2014. For more details on my upcoming speaking engagements, or to check my topics and availability, visit the speaker page at my website. 
If you are a writer, be sure to check out my Live Write Breathe site.
©2014 by Janalyn Voigt
Subscribe to the Creative Worlds of Janalyn Voigt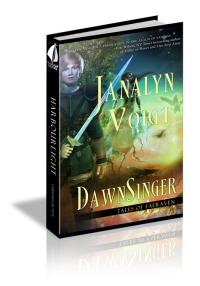 Need an escape?
DawnSinger, Tales of Faeraven #1 by Janalyn Voigt
A headstrong young princess and the guardian sworn to protect her fly on winged horses to the Gate of Life above the Well of Light in a desperate bid to release the DawnKing, and the salvation he offers, into a divided land. Will they each learn in time that sometimes victory comes only through surrender?
Purchase DawnSinger today!