This month I've joined as part of a 30-author team to launch Christian Fiction Historical Society, a blog uniting those who love to write historical novels with those who love to read them. Our posts and books span centuries so whatever era you prefer, we have you covered. We'll post daily. This month each author is saying hello. In March we'll give away a kindle and launch a month of daily giveaways along with great posts full of historical tidbits.  Here's a lead-in to my contribution:

My Writing Life: A Tale of Two Genres
Whenever it rained in California, the sunny state where I grew up, we'd call it liquid sunshine. Now that I abide in the damp Pacific Northwest I've qualified that theory. You can grow used to anything and rise above every discomfort, or so I've learned. Although the heavens often weep I contentedly look for the blue sky waiting just behind the clouds. Pollyanna, I've been described, and I remain guilty as accused.
I wasn't always this way. I had to outlive my difficult teenage years and endure many turbulent years before sliding into safe harbor. Thankfully, the Savior of my soul never let go of me. I'm happy now, but I can never forget the pain I once knew far too well. I am grateful to be alive, let alone blessed beyond reason.
As children, my older brother and I would beg my father for bedtime stories, and he would give them. He his deep voice would rumble against my ear at his chest as he unfolded stories of exotic places like Oz and Neverland. My imagination carried on with the tales even after he closed the book for the night. When eventually my father stopped reading stories, I began creating my own. Within a few years…Read more at Christian Fiction Historical Society.
©2014 by Janalyn Voigt
Subscribe to the Creative Worlds of Janalyn Voigt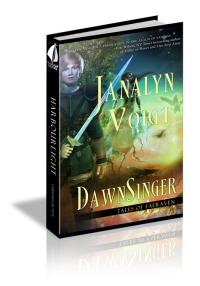 Need an escape?
DawnSinger, Tales of Faeraven #1 by Janalyn Voigt
A headstrong young princess and the guardian sworn to protect her fly on winged horses to the Gate of Life above the Well of Light in a desperate bid to release the DawnKing, and the salvation he offers, into a divided land. Will they each learn in time that sometimes victory comes only through surrender?
Purchase DawnSinger today!