I don't really believe in writer's block, so I won't say I had a case of that in recent weeks. However, my mind, spirit, and body do need to be in harmony for me to create.  That's not to say that everything has to be ideal before I can write, but I am human and can be thrown off at times when the rest of life intrudes.
I'm happy to report that this week I've picked up a creative writing project. Lesley Ann McDaniel is almost finished writing Tide Will Tell, book two in the Islands of Intrigue romantic suspense series. I'm committed to write book three of this series, and if I want Lesley to include the first chapter of Deceptive Tide at the back of her book (which I do), I have to write it.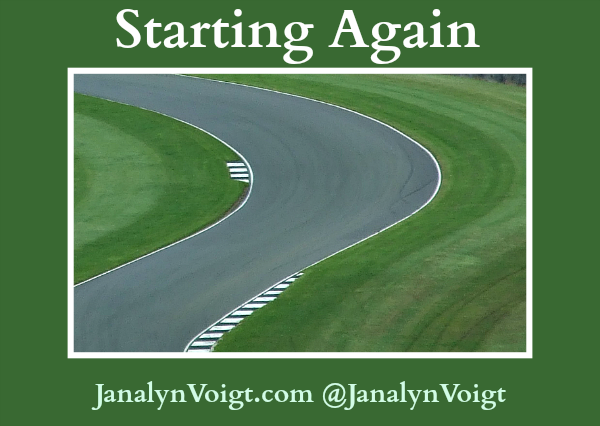 Having a deadline always helps me blast past roadblocks, and this time is no exception. I really wish I'd been wired differently, because I don't particularly like deadlines. In fact, avoiding them is another great motivator. But I digress.
My earlier attempts to start Deceptive Tide left me frustrated. Lynnette Bonner, who wrote Unrelenting Tide, book one in the series, doesn't create from an outline like I do, so we pretty much discovered around the same time just how hard plotting a romantic suspense novel can be. With romantic suspense, there are a lot of layers and timelines to keep track of. It's enough to give you a giant headache, trust me. Anyway, Lynnette came through with flying colors, and if you like romantic suspense novels Unrelenting Tide is worth reading.
Anyway, back to my plot, the one that was giving me fits. If I had to choose a project to jump back into writing with, Deceptive Tide would not be my first choice. So, as often happens when I'm stuck, I prayed. Believe me when I say I have prayed over this plot many times in the past. This time the timing must have been right, because the plot came together at last. I have the first scene of chapter one written and edited and with only a few days left on Lesley's deadline am ready to move on to scene two. I'm hoping to ring in on time.
On the Home Front
We're all still missing Guinevere. She was so much a part of the fabric of our lives that her passing left a huge hole.  Thanks to all of you who contacted me with expressions of sympathy. I appreciated ever comment and email. I hope you will continue to either comment at the site or hit reply to this newsletter for a more private correspondence. I love connecting with you.
Our new cat, Vanilla, short for Nilly (aka: Silly Nilly), gets a sublime look on her face whenever classical music is playing. She has taken to following me up and down the stairs (great fun for her) when I'm doing housework. She was a starving stray but is a little plump now, but she's been inside long enough for us to rule out pregnancy. We're still gaining her trust so that we can put her in a carrier and take her to the vet for a first visit.
I moved out of my closet writing office to watch over my cat, Guinevere, during her illness, but I'll be returning to my hidey hole tomorrow. Once I have my office better organized, I'll give you a better look at it.
I'm also preparing my house for some out-of-town friends who next month will stay overnight on their way to a writing conference. My friend and speaking partner, Melissa Norris, will also be here, since she and I will be teaching at the same conference. It should be fun catching up with my friends, just so long as we don't get carried away talking and stay up too late.
Next Goals
I'm hoping at least to complete the first chapter of Deceptive Tide and record my first podcast episode. It's hard to choose which other urgent project to pick up after that, but hopefully I can move into something else as well.
©2014 by Janalyn Voigt
Subscribe to the Creative Worlds of Janalyn Voigt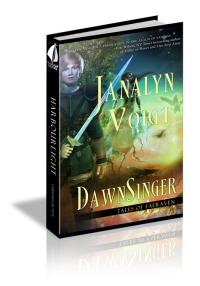 Need an escape?
DawnSinger, Tales of Faeraven #1 by Janalyn Voigt
A headstrong young princess and the guardian sworn to protect her fly on winged horses to the Gate of Life above the Well of Light in a desperate bid to release the DawnKing, and the salvation he offers, into a divided land. Will they each learn in time that sometimes victory comes only through surrender?
Purchase DawnSinger today!