Launching Wayfarer
Highs and lows are what my January was about. I spent the first several weeks fighting off three maladies at once; an annoying cold, an infection, and a painful bout of sciatica. This put paid to some of my launch plans for Wayfarer, book two of my epic fantasy series, Tales of Faeraven, which you may recall released January 3rd. Thankfully my wonderful launch team stepped up to help.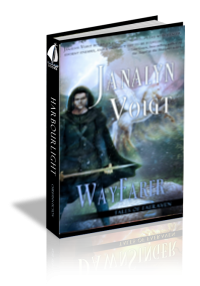 Wayfarer climbed in Amazon's rankings and made it into the top one hundred bestselling books in two categories. I didn't catch that screenshot, but I was able to take this one, showing Wayfarer as #75 in Christian fantasy.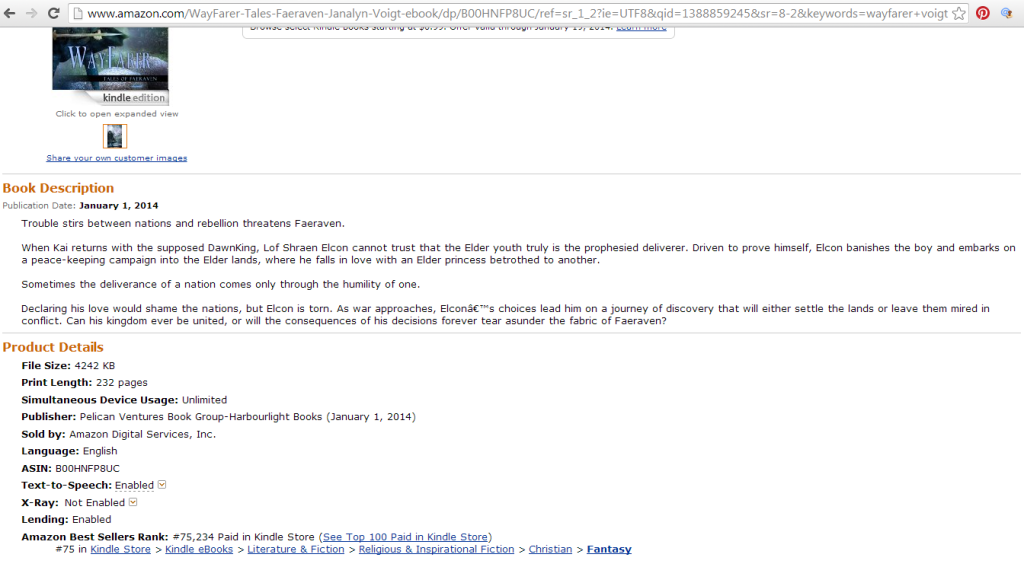 Complications
Meanwhile, my husband and daughter had both come down with violent colds. As I was recovering my own health, I also cared for them and  administered hospice care (involving syringes, IV fluids, and vet visits) to my cat who has renal failure.  The wheels were already in motion for my main launch effort, but I still had a lot to do to ensure it runs smoothly. Time lost to illness had left me scrambling to prepare for my presentation at a writers' conference toward the end of the month. Somehow I managed it all. I'm not sure how.
My main online launch effort begins with a blog tour starting today, February 1st, through the 8th. I'm offering, as an incentive to participate, the chance to enter the giveaway drawing for a $20 Starbucks card. Enter once per day. You'll find an entry form at the end of this post an the participating blog tour sites (links below).
The grand finale of my online launch effort for Wayfarer will be a Q & A session at Goodreads. Here's more on that: Join the discussion on the allegory, creatures, and characters of DawnSinger and Wayfarer, the first two books in the Tales of Faeraven epic fantasy trilogy. This group will be active from 10 am Pacific Time until 4 pm Pacific time on Saturday, February 8th, 2014.  on Saturday, February 8th from 10 am to 4 pm.
In January other opportunities presented themselves to put the word out about Wayfarer's release.

Thoughts On a Hectic Month
I'd fondly imagined spending January getting back to normal after the holidays while tying up loose ends from 2013. To be honest, I've not been able to do more than hang on by my fingernails this month.
Launching a book is a breathtaking experience. It's also a winnowing fork that separates the chaff from the wheat in a hectic schedule. It has helped me better streamline everything I do. For that, a second published book, and my and my family's return to health, I'm grateful.
Wayfarer Launch Celebration Blog Tour with $20 Starbucks Card Giveaway Drawing (One person will win a $20 Starbucks card. One entry per person per day.)
Saturday, Feb. 1: Novel Rocket
Sunday, Feb. 2: Anne Elisabeth Stengl's Tales of Goldstone Wood blog
Monday, Feb. 3: Linda Weaver Clarke's A Family Friendly Blog (this site will not participate in the Starbucks card drawing but is giving away digital copies of both books to one winner.)
Tuesday, Feb. 4: 3 Questions Wednesday
Wednesday, Feb. 5: Kim Vandel
Thursday, Feb. 6: Lorilyn Roberts
Friday, Feb. 7: Christ Teen
Saturday, Feb. 8: Courtly Love in Medieval Times and Q & A session at Goodreads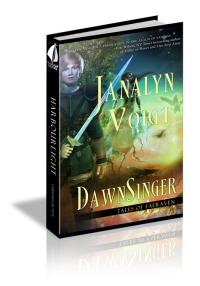 Need a good adventure?
DawnSinger, Tales of Faeraven #1 by Janalyn Voigt
A headstrong young princess and the guardian sworn to protect her fly on winged horses to the Gate of Life above the Well of Light in a desperate bid to release the DawnKing, and the salvation he offers, into a divided land. Will they each learn in time that sometimes victory comes only through surrender?
Purchase DawnSinger today!
©2013 by Janalyn Voigt