Creative Worlds in 2014
What Readers Want
It's taken a while to sort out what to offer readers of Creative Worlds. It hasn't been that I had too little to write about, rather the opposite. With interests in history, photography, poetry, novel writing, and teaching, I have found it hard to distill the essence of me, if you will, into a cohesive stream of content.
Given all of that and the fact that I read and write in more than one genre, deciding how I would brand as a writer and what to deliver as products for readers has been tough. I was never any good at deciding what to be when I grew up, and I'm still not. But, I at least have a glimmer about that now, and I'm clear on how to proceed with my website.
I really can't ignore the stats that make it clear that my readers want more about my life as a writer, my book news, and about my travels. This shouldn't have surprised me, since it's exactly the sort of thing I want to know about the authors I enjoy. Fortunately, I've been trending this direction for a while now. Also, my readers don't want to hear from me more than once a week, so I've stopped sending out my updates as blog posts and have gone to a weekly newsletter with links to new posts. I'll keep my sub-domains but as sites of interest to my readers rather than as parts of a blog.
What Will Continue
This year marks a fine tuning in my offerings to make them more personal. My author journals about some aspect of my life as a writer will continue.
In addition, I'll try to offer guest journals from some of my writer friends once a month. I find reading about the lives of other writers fascinating, and I hope you will enjoy meeting some of my friends.
I'll continue to update my author news once a month as well. My aim is to be as transparent as possible in what I share. That's why you hear about both my rejections and acceptances.
New This Year
I'll add travel journals back into the mix this year. Because most often my travels often involve conferences, book festivals, retreats, and research trips—all part of my identity as a novelist—sometimes I feel very much like a literary wayfarer cast adrift on the world. Therefore, I've  decided to call these my literary wayfarer travel journals. I'm learning that there's so much more to life as a writer than I had imagined. I'll use this travel feature to encourage myself (and perhaps you as well) to venture more into the literary scene in the places I visit.
Final Thoughts
I should say for anyone who missed it that although I started this website as a place to teach other writers, I've moved that type of posting to http://LiveWriteBreathe.com.
I have some surprises planned for a little later in the year. I would dearly love to tell you about it now, but I'd better not steal my own thunder. Watch for an announcement in a couple of months.
Yes, it's taken me a while to sort myself out. My thanks go out to those who have tracked with me through it all. To all my readers, I have a simple request. Please comment to let me know you are reading, and that what I write matters to you. I truly do want to get to know you.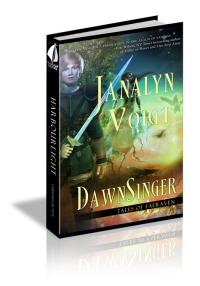 Need a good adventure?
DawnSinger, Tales of Faeraven #1 by Janalyn Voigt
A headstrong young princess and the guardian sworn to protect her fly on winged horses to the Gate of Life above the Well of Light in a desperate bid to release the DawnKing, and the salvation he offers, into a divided land. Will they each learn in time that sometimes victory comes only through surrender?
Purchase DawnSinger today!
©2013 by Janalyn Voigt