Emigrants traveling the Oregon Trail needed to consume Vitamin C in order to avoid scurvy. This could be a challenge, since fresh produce was often not available. Apple cider vinegar, which is loaded with Vitamin C, usually was. Vinegar keeps well, part of its charm for travelers on the Oregon Trail.
This concoction intrigued me enough to include it in Hills of Nevermore (Montana Gold, book 1), but I have to admit it took me a while to actually try it for myself.
The basic recipe has just three ingredients: water, apple cider vinegar, and sugar. Some versions include lemon extract or essence, which would help the drink taste more like lemonade. Some people swore by adding ginger to vinegar lemonade. I had some fresh ginger to use up and no lemon extract, so for me the choice was easy to make.
I started by filling a gallon-sized glass jar with filtered water. To this I added 2/3 cup apple cider vinegar and 2/3 cup sugar. It's best for health, I believe, to use raw vinegar that contains a mother. If you don't know what that is, hold up the jar and see if there's a blob floating in it, usually near the bottom. Bragg makes a good apple cider vinegar, and in the Fall, you can sometimes pick up a bottle at a local farm.
The sugar I use is evaporated cane juice. I prefer sugar in this form because it still contains its molasses and minerals (including iron). The Good Lord did not make a food that is high in calories but delivers zero nutrition. Manufacturers do that to sugar when they refine and bleach the daylights out of it. I suggest consuming sugar in as close to its natural state as possible.
If you don't want to use sugar, you can always substitute 1/2 cup honey.
Ginger is readily available at fruit stands, whole-food coops, and grocery stores. If you haven't ever used fresh ginger, be warned that you may become addicted to the stuff. For a gallon of ginger-vinegar lemonade, I broke off a three-inch knob. Be sure to peel your ginger. Grating it is best for maximum flavor, but chopping the ginger into small pieces will also work.
Lemon extract, if you want to add it, is found in the grocery store. Make sure you check the label and avoid artificial ingredients. If you can't find good lemon extract, you can always use grated lemon peel or lemon juice to taste.
Enjoy this refreshing drink on a hot summer day.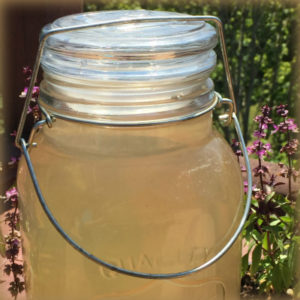 Vinegar Lemonade Oregon Trail Recipe
2017-06-30 12:33:39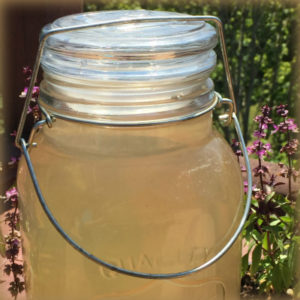 Offer this refreshing beverage on a hot summer day.
Ingredients
Gallon Water
2/3 cup Apple Cider Vinegar
2/3 cup Sugar
Fresh Ginger (optional, 3-inch knob or to taste)
Lemon Extract, Lemon Essence, Grated Lemon Peel, or Lemon Juice (optional, to taste)
Instructions
Stir the vinegar, optional lemon flavoring, and sugar into the water until the sugar dissolves.
Peel the fresh ginger. Grate it for maximum flavor. If in a hurry, chopping the ginger into small chunks will also work.
Add the ginger to the vinegar-lemonade.
Let steep for half an hour.
Refrigerate.
Janalyn Voigt http://janalynvoigt.com/