About This Virtual Travel Relaxation Video
I took these images of the ghost town of Bodie, California on an extremely hot day in the summer. The heat was so ennervating it was all I could do to keep walking. The shade beside some of the buildings wasn't that much cooler, and the sagebrush underfoot looked like perfect cover for rattlesnakes.
I'd read that Bodie was famous for its inhospitable weather, being blazing hot in the summer and bone-chillingly cold in the winter. Bodie's violent past now took on new meaning. It would be easy to become cranky in such heat.
I wondered, not for the first time while exploring historical sites, how the original inhabitants ever managed to function. They must indeed have been hardier souls.
Bodie covers so vast an area that I captured pitifully few of the sights to be seen on camera. My biggest find was when I peered into the listing brick strong building and discovered a safe in beautiful condition hidden inside. Whenever I think of this treasure, abandoned and forgotten, it makes me sad. How much longer will the building remain standing to shelter it?
The most tender moment in this video is the shot of peeling wallpaper. Although the image isn't the best quality, it strikes me as particularly poignant, so I included it anyway.
Artifacts left lying in the grass, like the rusted washbasin in the video, make me wonder whose hands placed them there. Tattered curtains at the windows remind me that some brave souls attempted to make a home of this inhospitable place.
I played with interposing nature in several of the images. A bird was nice enough to pose on top of the church tower in an image that suggests the outcome of Bodie's defiant struggle to remain standing against the force of nature. Also, while traveling down one of the streets in the town proper, I noticed that the reflection of clouds in the glass made them seem to float across the tin ceiling inside. This particular image still makes my throat close up because of the unspoken message it relays.
These aren't all of the pictures I caught on camera at Bodie, California. There are more, like this picture of the Gentlemen's Club (the saloon).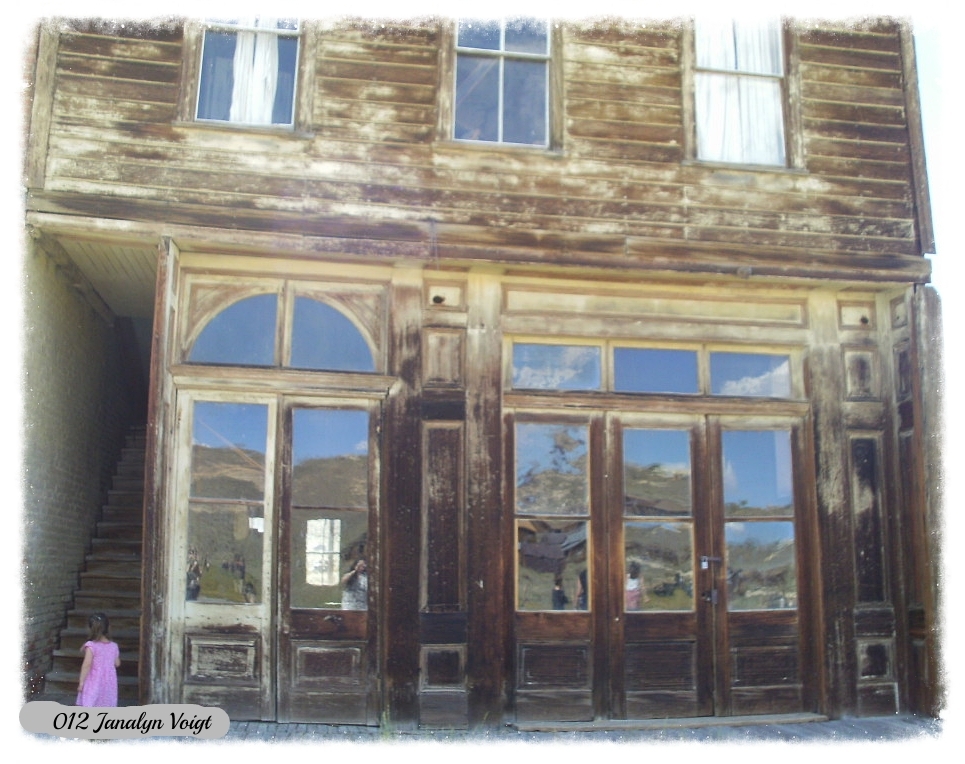 Getting to Bodie is not for the faint of heart. You have to travel for several miles along an unpaved access road. The surface washboards in the summer, but it must be full of mud in the wetter months. If you'd like to explore it yourself, either in person or online, here's the website for the Bodie State Historic Park. If you do visit, go early in the summer and early in the day to avoid the heat. There's bottled water and an amazing horse-drawn hearse complete with black plumes, in the museum.
Tweetables
It's All About You
Have you also made some interesting historic discoveries? Which ghost towns would you like to visit? I'd love to know!
© Janalyn Voigt