The cooler days of autumn bring us hot cider, the comfort of soups and stews, and the beauty of turning leaves. A hint of mystery permeates the air, and with it the promise of soon-coming holidays. Bright pumpkins sit outside grocery stores and dot farmers' fields, waiting for eager hands to carry them home.
During the years I worked at a CSA (Consumer Supported Agriculture) farm, I must have weighed thousand of pounds of pumpkins in October. It was hard work, standing outdoors in the cold, come rain or shine, but it was always fun.
Time and again, I saw grown ups regressing to childhood. It's impossible to remain dignified while balancing twenty pounds of muddy pumpkin in your arms. But it's more than that. There's just something about pumpkins that makes us smile.
One of the best tastes of fall isn't that hard to capture. It's easy, once you know how to cook pumpkin. Read on.
How to Cook Pumpkin
If you will be making pie, it's best to use

home-grown sugar pie pumpkin

. For soup, I really like growing cinderella pumpkins. To eat pumpkin like a vegetable (it's really a fruit), I recommend growing Connecticut field pumpkins, the American heirloom variety that sustained the New England colonies. Note: Pies made from jack-o-lantern pumpkins will probably not be organic and may be genetically modified (GMO) and/or contain pesticide residues.
Wash every bit of mud off the outside of your pumpkin. I like a bamboo vegetable brush for this.
Remove the pumpkin stem by scoring around it at an angle with a flexible blade (like a paring knife), and then breaking it off.
Don't worry about the blossom end, and there's no need to peel the pumpkin at this point. We'll deal with all that after cooking.
Put your knife into the midsection of the pumpkin and, turning the pumpkin as you go, cut through the meat until you reach the place where you started. The pulp in the middle doesn't need cutting and will just pull apart when you separate the halves.
Remove the pumpkin seeds. I save some for the seeds for next year's planting. I just rinse them off and lay them on a plate. After they are dry, I break them up and turn them over, then repeat that until they don't stick any more. The remainder can be used to make toasted pumpkin seeds.
Remove the pulp. A large spoon is handy for scraping the inside of the pumpkin until you only have the meat.
Place cut side down on a cookie sheet, baking pan, or pie plates and bake in a 350 F oven until a fork can be inserted easily.
Cool until the pieces are comfortable to handle.
Peeling the pumpkin with a small knife should be easy at this point. You can cut it up to add to soups or to eat as a vegetable.
To make puree for pies and other recipes, cut the pumpkin flesh into sections and put them into your blender or food processor to process. Don't add water! It's a little harder, but especially if you'll be using your puree to make pie, you won't want extra liquid. Just stop the blender and stir the pieces down until they break into a puree.
That's all there is to cooking pumpkin, so I hope you'll take advantage of the harvest this year. You may want to try fresh pumpkin pie recipe.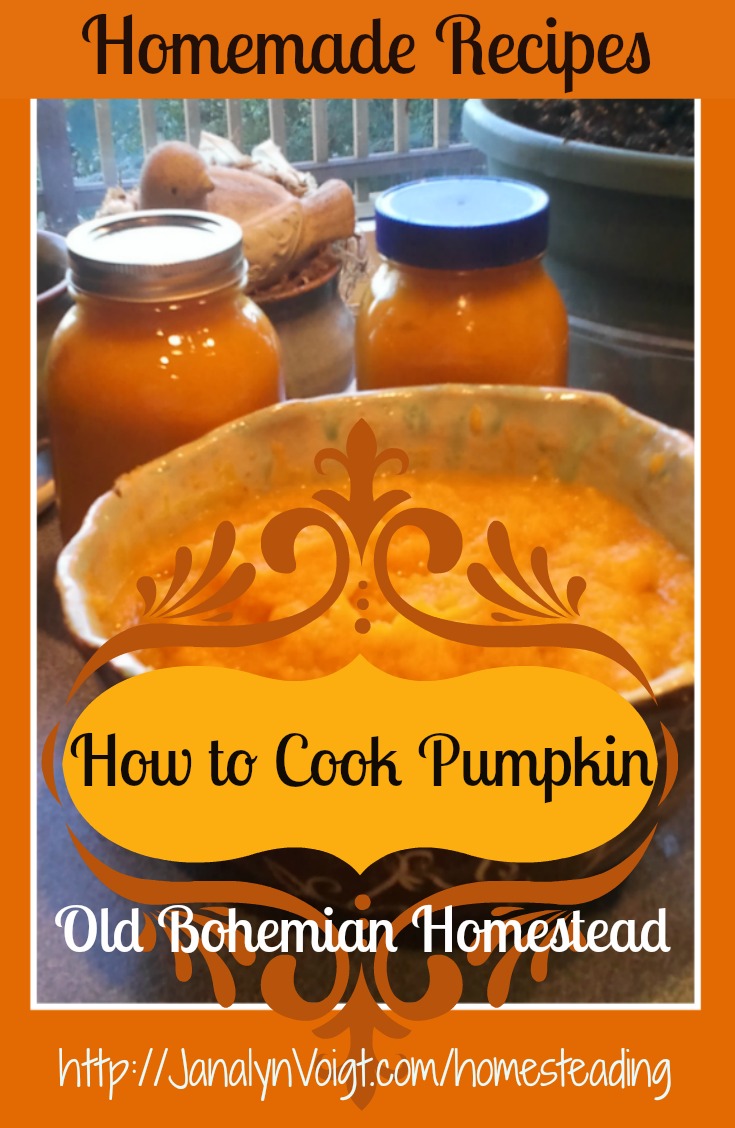 ©by Janalyn Voigt