Every once in a while an animal captures the popular imagination and even attains fame. That's the case with Mona, a camel living on San Juan Island who has an irrepressible affection for people. Mona, originally called Moanie for the sound she made whenever her first owner, J. Ward Phillips, would leave, still sounds off when people are around.
Background Story of Mona the Camel
Phillips obtained Mona from a breeder in Missouri and brought her to the San Juan Islands as part of an exotic animal farm. When Phillips moved to Canada for a few years, he returned to visit Mona every couple of months, but that didn't prevent her from protestingthe separation by dismantling her barn. Phillips realized she needed a new owner who could give her more attention.
The woman who purchased Phillip's camel decided not to keep her, which is how Mona came to live with Steve and Corina King. Steve had good memories of a camel he saw in a petting zoo as a child, and Corina developed an interest in camels during the three years she made documentaries in Egypt. Since coming to live with the Kings Mona's popularity has grown.
Meeting Mona
My own experience of Mona was on a perfect day in summer. I was touring San Juan Island with two other writers after a week-long writing retreat in a private home near Friday Harbor. Several cars had pulled over alongside the Roche Harbor road as the occupants petted Mona. This sweet camel even reached across the fence to kiss one of them on the cheek.
The temptation to stop was great, and I was soon waiting my turn for Mona's affections. She advanced toward me, a tall creature with beautiful long-lashed eyes. It was easy to see why so many people become smitten with this darling. Even so, I couldn't quite overcome my reluctance to touch her. Mona looked at me in puzzlement and moved on to the next person to love.
As my way of making amends, Mona will appear in my romantic suspense novel, Deceptive Tide, book three in the Islands of Intrigue series, which I was researching while in the islands.
Mona, One Famous Camel
Mona has her own Twitter account and Facebook page as a public figure. The winery across the street even named a wine, the 2009 Mona Vino Blanc, after her. On her Facebook page and the San Juan Vineyard's Yelp listing you can read countless stories about the ever-adorable Mona's interactions with visitors. And then there's her website, where you can purchase a Mona the camel plush toy. (I'm not making this stuff up.)
Mona has reached a level of fame some humans can only dream about and is so beloved within the San Juan Island community you would think life couldn't get better for her. Unfortunately, she's lost a lot of her coat from too many sweets, so visitors are being asked not to feed her. Also, her feet are not really designed for a cold pasture in winter, so out of concern for her health, her owners are considering sending her to a camel farm in San Diego.
Here's hoping that, wherever she travels, Mona always has lots of people to kiss.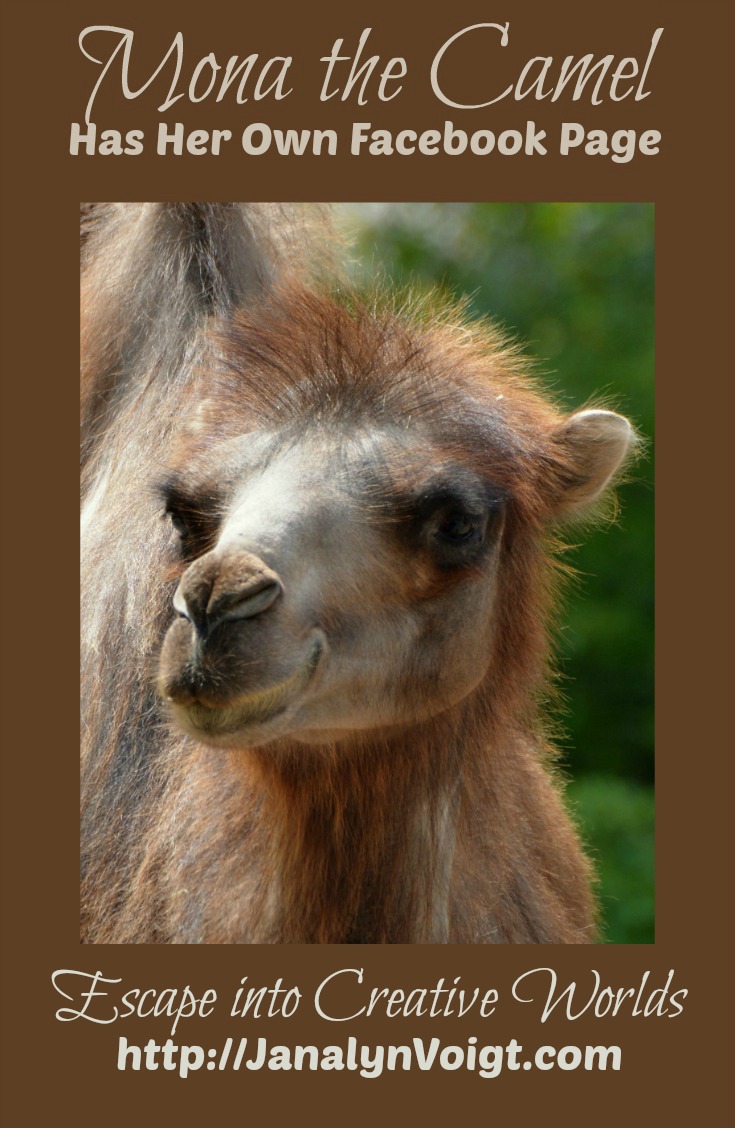 Note: When I met Mona, I forgot to take her picture, so I used a similar camel to illustrate this post.
Research Sources