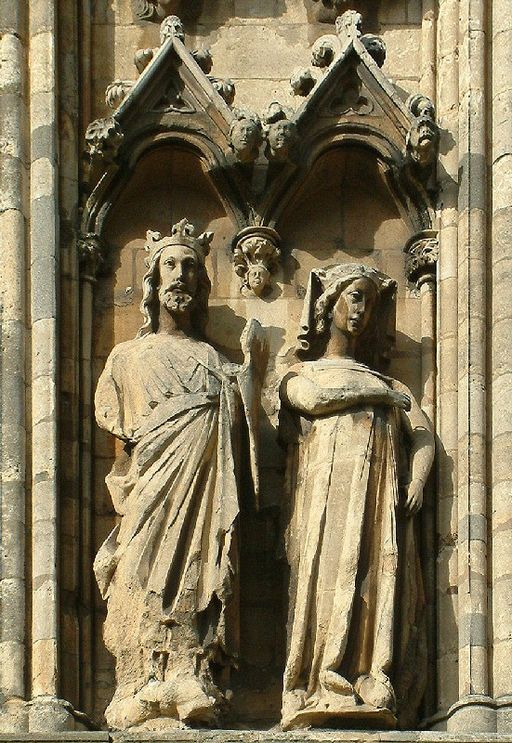 While researching DawnSinger (Tales of Faeraven 1), my epic fantasy novel based on 13th-Century Europe, I stumbled upon the history of England's Eleanor Crosses. I hope you enjoy discovering this royal love story as much as I did. ~ Janalyn
Edward and Eleanor, a Royal Love Story That Transcended Death
Contrasted against the cruelty of the age in which they lived, the love story of King Edward I and his child bride, Eleanor of Castile, blossomed like a tender rose among thorns. Theirs was a marriage of political convenience, made when Edward was 15 and Eleanor somewhere between 9 and 13 years old (her birth date remains uncertain). Although they married early, they lived apart and did not consummate the marriage until Eleanor was probably in her late teens. In the years that followed, their marriage of convenience grew into a union oflove marked by fidelity.
Edward was one of the few kings of his time who did not take a mistress. He and Eleanor were inseparable. When Edward visited the Holy Land during the Eighth Crusade, he brought Eleanor along, and she delivered a daughter (Joanna of Acre) in a tent. Altogether, the couple had 15 or 16 children, many who did not survive childhood.
Tragedy strikes.
Eleanor and Edward were crowned King and Queen of England in August 1274, following the death of Henry III. Eleanor would live just 15 more years. While traveling to join her husband in the city of Lincoln in late fall of 1290, she grew ill, probably with quartan fever (malaria). She had to halt her journey just 10 miles from her destination, where with Edward at her bedside she died.
In a solemn procession, Edward accompanied his wife's embalmed body on a 12-day journey to its burial in Westminster Abbey. At each place her remains rested along the way, he erected "Eleanor Crosses," elaborate stone monuments in her memory. In all, 12 crosses stood at
Lincoln, Grantham, Stamford, Geddingston, Northampton, Stony Stratford, Woburn, Dunstable, St Albans, Waltham, Westcheap and Charing. Edward had probably seen memorial crosses in France after the death of King Louis IX in 1271, although construction of cenotaphs (empty tombs) were common in the ancient world.
Feared among his subjects and by those nations he subdued, King Edward I was called the Hammer of the Scots because of his bloody subjugation of that nation. This reputation has carried down through time and still attaches to him today. He is featured as a tyrant in the movie, Braveheart. And yet, Edward's tireless grief for his wife indicates he also possessed a softer nature. Many years after Eleanor's death, Edward spoke of her as she "whom living we dearly cherished, and whom dead we cannot cease to love." Although he eventually remarried, he continued to honor Eleanor's memory until his own death in 1307.
Today only the three Eleanor Crosses at Geddington, Hardingstone, and Waltham survive. All have lost the tall crosses they bore, but the lower stages remain. The best of the three (and the only one still in its original location) is at Geddington. Fragments of the ruined crosses at some of the other locations can be viewed as well.
The Eleanor Crosses Today
Grantham: The Historical Notes on Grantham compiled in 1857 by Rev. B. Street, Curate at Grantham, tells what happened to its cross. "At the upper end of High-street, where it widens out West of St. Peter's Hill, stood a Cross of Stone, recording the resting of Queen Eleanor's corpse, at Grantham, in November, 1290. It was destroyed, together with other time hallowed monuments at Grantham, by the Parliamentary soldiers in the Civil War, most probably in 1645, when the town was garrisoned by the rebels under Colonel Rossiter.
At the Alderman's Court, held Feb. 19, 1646, at the Guildhall, Grantham, it was ordered that the town Constables should recover, from those inhabitants who had appropriated them to their own use, as many as possible of the stones which came off the cross at the upper end of High-street, commonly called the Queen's Cross, and carry and lay them in the Church. A Mr Howgrave, apparently in a letter addressed to Gough, the Editor of Camden, says, "I saw a stone carved with foliage work, said to be part of it, and I believe it, seeming of that sort of work." This must have been in Charles the Second's reign.
No known remnants of the original cross at Grantham remain.
Geddington: This is the most intact Eleanor Cross and still stands in its original location. It is triangular, has drapery along its lower course, and contains a statue of Queen Eleanor.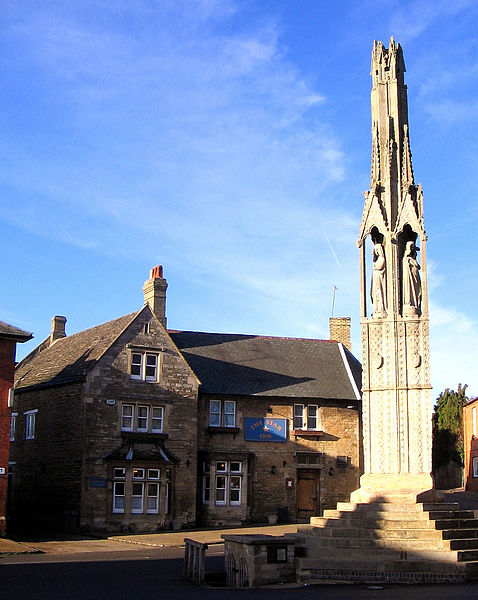 Hardingstone, Northampton:
The British library offers a glimpse of how the
Eleanor Cross
situated at the edge of
Delapré Abbey
originally appeared. A local story has it that the cross at the top was knocked off during World War II by a low-flying aircraft. Octagonal in design, it was built in three tiers and features open books in its lower course. What these books contained is now lost in time.
Stony Stratford:
The exact location of this cross is now a matter of debate, but it may have stood at the lower end of town. Tall and elegant, it was destroyed during the English Civil War. Any trace of the ruined base has since vanished. A
commemorative plaque
in the town is the only reminder that it once existed.
Woburn:
The funeral procession stopped for the night at a Cistercian abbey that may have stood at the site of the later Woburn Abbey. No one knows the exact location of the
Eleanor Cross
that once stood at Woburn, and no known remnants exist.
Dunstable:
The Eleanor Cross was built at a crossroads where the local people gathered to mourn Eleanor's passing.
A modern statue of Eleanor
stands at a shopping precinct named in her honor.
St Albans:
A
commemorative
plaque
on the Clock Tower is the lone reminder of the cross that once stood in High Street. It was pulled down to be replaced by a fountain, and then the town pump.
Waltham (now Waltham Cross):
The cross at Waltham still stands, although the original statues of Eleanor have been replaced by replicas. The originals now reside in the Victoria and Albert Museum.
Victoria & Albert Museum
.
Westcheap (now Cheapside): Succombing to an ordinance from Parliamont, the Cheapside cross was pulled down amid riots. Fragments rest in the Museum of London, but although drawings that would enable reconstruction of the Cheapside cross exist, the attempt has never been made.
Charing (now Charing Cross): Charing boasted an expensive marbe cross in a location on the south side of Trafalgar Square, but in 1647 this cross was destroyed on order of Parliament. A replacement cross went up in 1865 in front of Charing Cross railway station, but it is not an exact replica.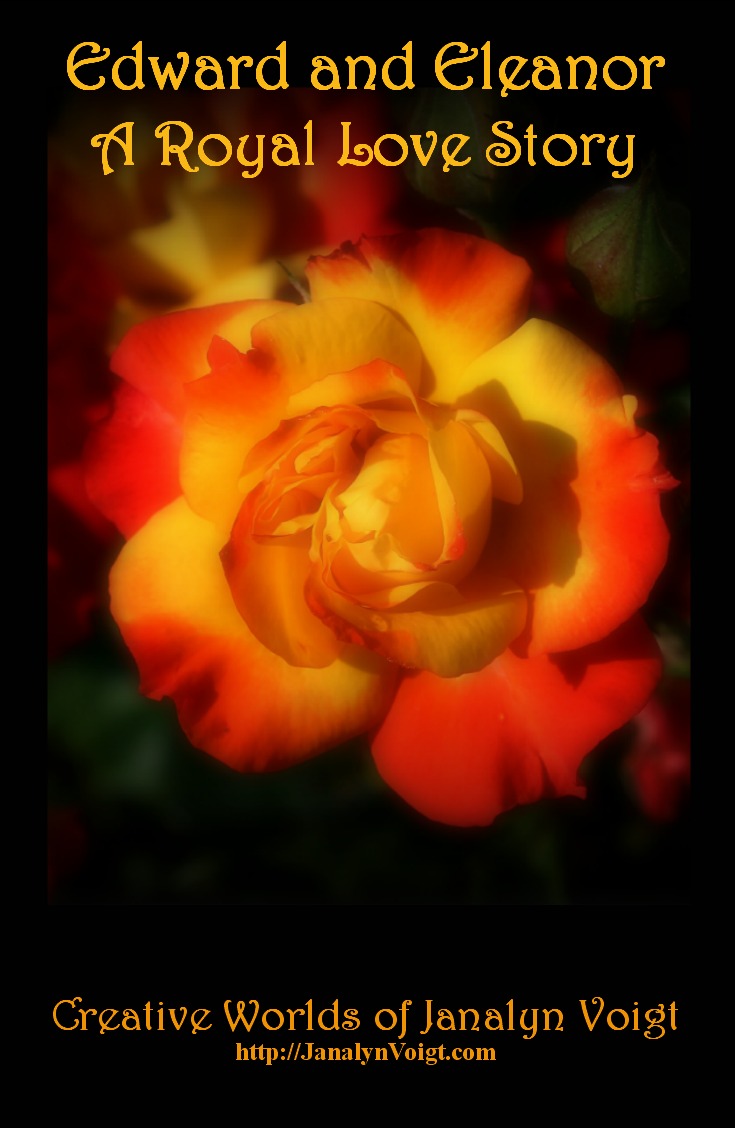 This article first appeared as A Royal Love Story: History of the Eleanor Crosses at Heroes, Heroines and History