There's a point where an adventure turns into an ordeal, as my husband John and I discovered. Before our little misadventure, I'd read stories about people who became lost in the woods. Now the gas left in our tank, our mental resources, and prayer were all that kept us from winding up among them.
We planned to visit the Gifford Pinchot National Forest in a couple of weeks, so taking a side trip to check out campsites on the way home from Portland's NW Book Festival seemed a good idea.
Armed with a sketchy map from the ranger station in Trout Lake, some trail mix, a handful of cherries, and an extra water bottle each, we drove into the wilderness.
A quick hike satisfied our curiosity about a series of natural bridges.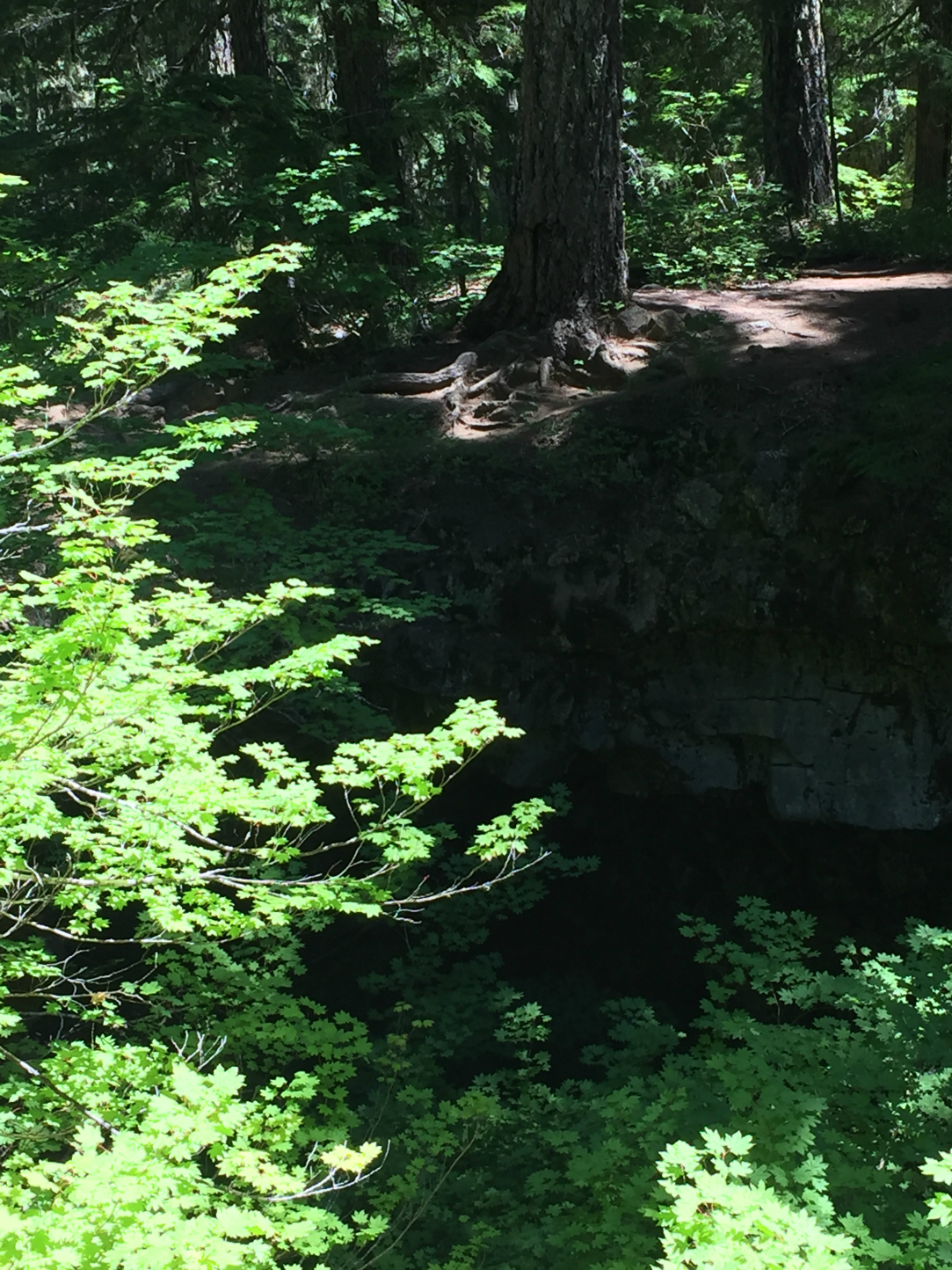 It also reminded me of my recent leg injury, the result of a surprise encounter with a boulder on a camping trip to Whidbey Island. Determining to take it easy, I strapped myself into our Honda CRV. We'd purchased the sports utility vehicle in response to my need to transport my books, tables, signs, and other trappings I use at vending events. The Honda wasn't new, but the previous owner had taken good care of it. As a bonus, the paint glowed a beautiful shade of blue. At least it did when not wearing a coat of dust kicked up by vehicles that passed us on the dirt road on our way back to the main road.
Here's a quick, amateur video I made to show you one of the natural bridges rock formation.
It didn't take us long to figure out we'd taken a wrong turn, fortunately. Undeterred, we returned to our route. After looking over several campsites, we continued our journey. If any of the roads accessing the area from the north were passable, they would provide a shortcut home and a quicker route when we returned. Our first indication that anything might be wrong with this plan came when we discovered ourselves traveling west rather than east as we'd expected. We stopped to ask directions of a woman in a car parked with several others alongside the road. She told us that we were on a completely different road than we'd thought, that one of the roads we'd hope to try was closed, and that the way out we should take lay to the southwest rather than the north.
My father had taught me in childhood not to think of being lost as a chance for adventure. I reminded both John and myself of this as we drove off. He swung onto the shoulder to turn around. "Wait, look!" I pointed to a stake giving the numbers of the road. We weren't anywhere near where the woman had said. In fact, the numbers corresponded to the road we'd thought we were on. Losing faith in the woman's guidance, we decided to proceed north. Our road map showed the route we'd wanted to take as closed in winter, which might be why she'd thought we couldn't reach the city of Randle by that avenue. With most of a tank of gas to burn, a little exploration wouldn't hurt. We turned onto a connecting road.
A sign warned us that this road was closed. After a brief consultation, we drove back to another connecting road. This one seemed to go through, but a sign notified us of limited maintenance. We soon learned that meant brush encroaching, grass in the center, and potholes hiding in dappled shade. Openings cut into logs fallen across the road were just wide enough for us to pass, and a one-lane bridge took us into tree tunnels with branches hanging so low they scraped the top of the car.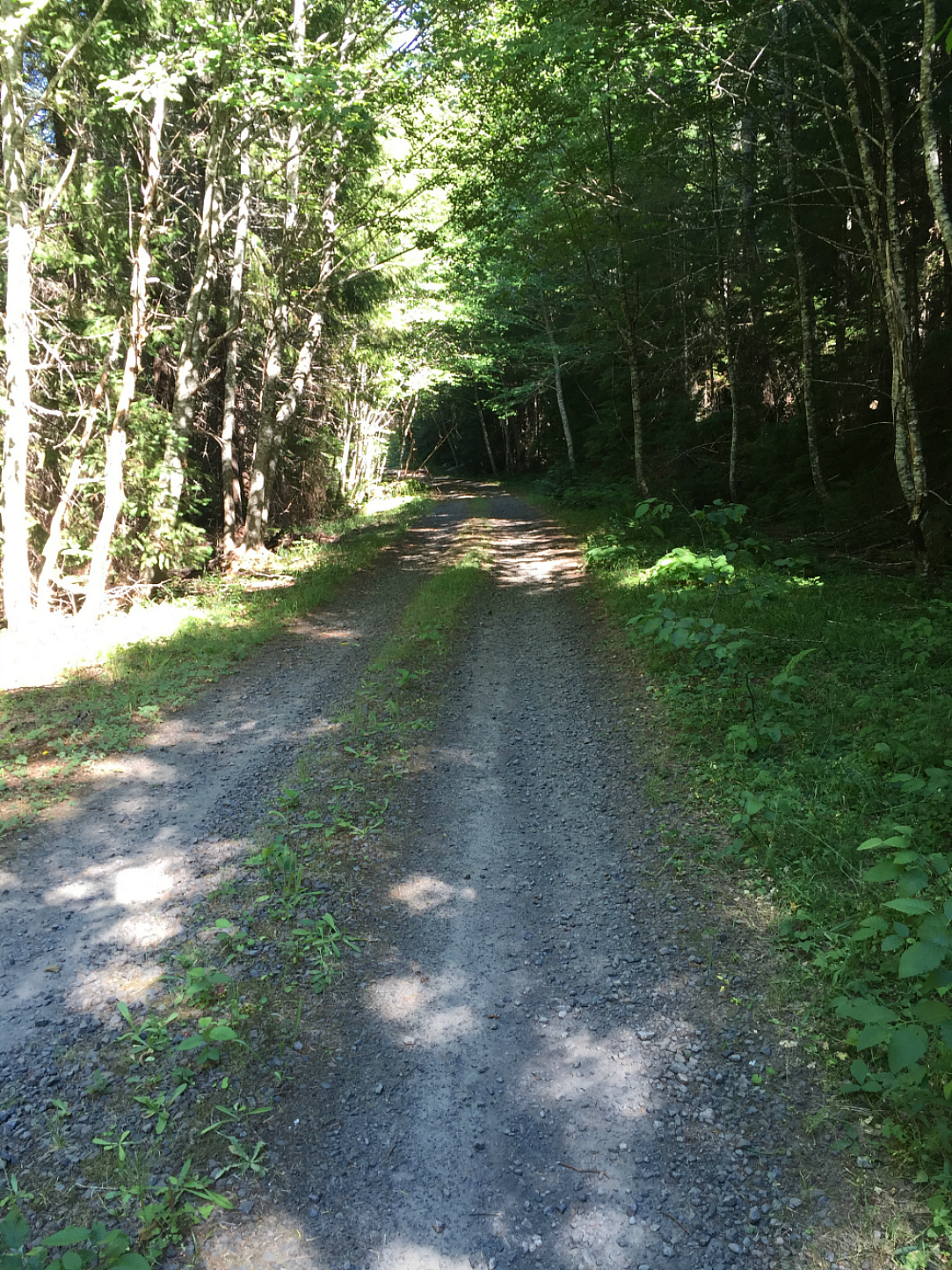 After what seemed a very long journey, we emerged onto a better road and had a new decision to make. Should we continue north or go south and out of the forest at the upcoming junction with road 90? The rough connecting road had made me less optimistic about making it to Randle, the town to the north where it emerged. However, my husband wanted to try. With over half a tank of gas remaining, I agreed to the plan, even when a sign cautioned us that the road was closed ahead. The dirt road was well-graded and wider, plus vehicles kept passing us from the direction of Randle. This raised the question of whether the signs just hadn't been taken down. After passing several slide areas that had been cleared, it seemed possible. It took 17 miles for us to reach a log stretched across our lane. Just ahead, the road vanished, obviously washed out by a river.
We turned back, realizing that we, along with all the other people driving from the direction of Randle, had allowed wishful thinking to guide us. At the place where the road split, we chatted about the possibility of a second road marked on the ranger station map as going to Randle. Our road map showed that we would come out far south if we went the opposite way, so we determined to test the road for a short distance. We stopped at an unmarked crossroads, less certain.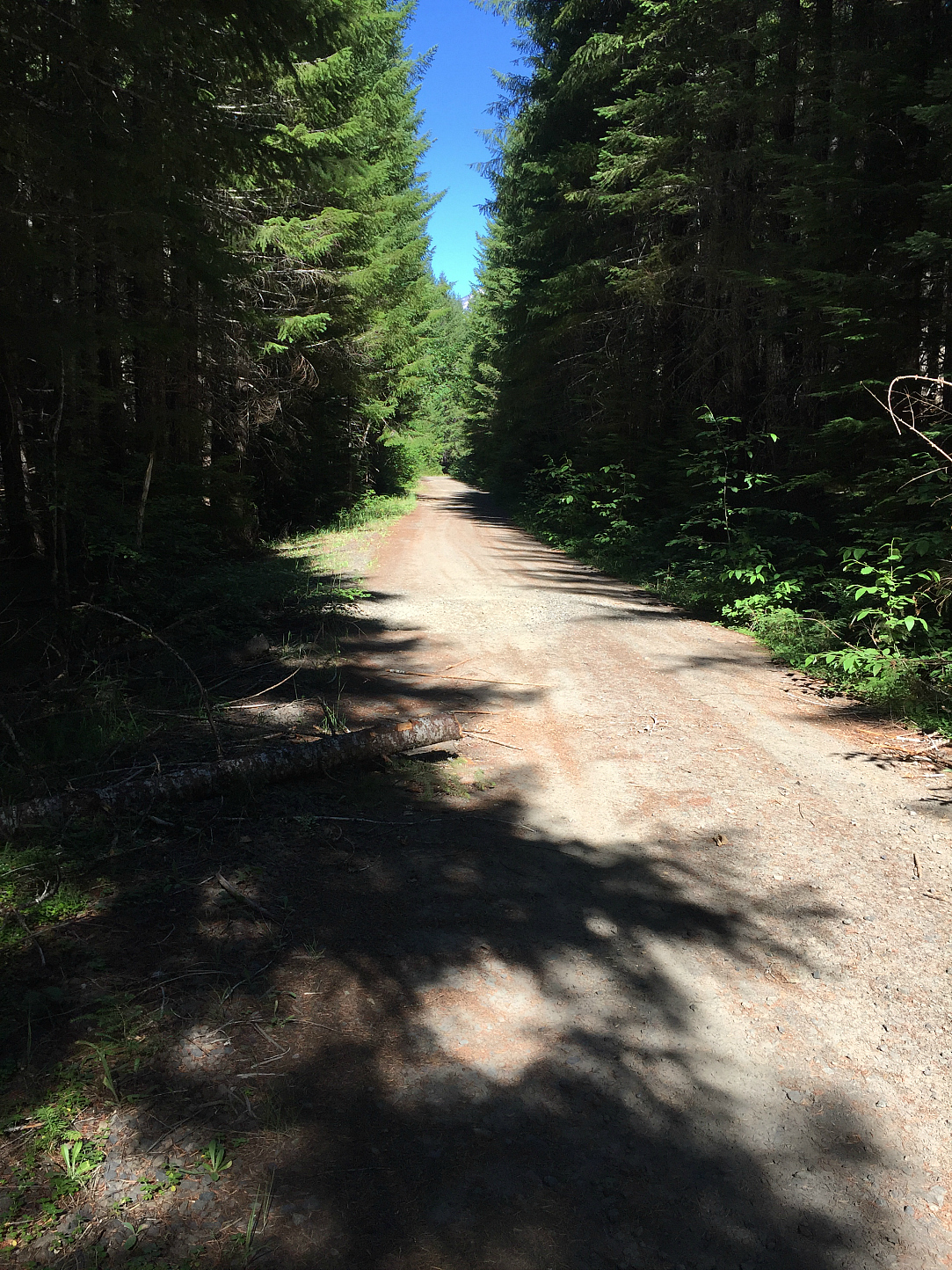 A woman in a passenger car stopped and rolled down her window. She'd made the same mistake we had and was hoping to reach Randle by this route. Our internet connection was completely gone, but the map on her phone indicated that we should turn right. We were welcome to follow her, if we wanted. This made up our minds, and we set out after her. She braked when she came to the large rocks strewn across the road. She turned around and squeaked past us. The road was suited more for a four-wheel drive vehicle, so we went back too. We'd had our adventure but with dark not far off, it was time to call it a day.
After more driving on dirt roads, the suspicion that we'd somehow missed turning onto road 90 crept over us. When we came to the red flag marking a bad pothole in the middle of the road, it became clear to us both that we hadn't driven this way before. John turned around and drove back to the place where the roads to Randle split, and we tried again.
We'd passed an unmarked road that went in the wrong direction from road 90, according to the rough map. The road map was no help, as it didn't show roads this small. My husband wanted to take it. By now my resilience had evaporated. For the first time, I began to wonder if we would ever leave this forest. Taking a road that obviously went the wrong way seemed less than intelligent, and I'm afraid I let my husband know this in uncertain terms. However…we still had close to a half tank of gas. I gritted my teeth and snapped that he could go ahead if he wanted to do something so foolish.
It turned out to be road 90.
I took over the wheel while John collapsed in the passenger seat. Even this main road had rough places with the forest encroaching.
Neither of us can understand why the map line went the wrong way, but it isn't hard to understand how anyone can get turned around out there. We won't go back without a better map, and we'll wait until afterwards to fix the long scratches in the Honda's blue paint.
John gets a kick out of how riled I became when he went the wrong way. I'm just thankful to have escaped the forest. The episode sparked an idea for a fantasy series, which came to me as I drove toward freedom.
Read "No Frigate Like a Book," this month's reader news.