Land of sagebrush, rattlesnakes, antelope, and breathtaking mountain vistas. Ah yes, Montana! I once fell in love with the state during an epic road trip. Marrying my return to the big sky country with my love of books was already a happy thing, but also attaining one of my bucket list items seems too good to be true. What am I raving about?
I've been invited as a featured author to the Humanities Montana Festival of the Book. During the festival I'll participate in an author panel with some of my favorite authors, Janet Chester Bly, Miralee Ferrell, Tracie Peterson, R.L. Symes, and Angela Breidenbach , attend a one-day retreat and a gala, and speak at the Garden of Read'n bookstore in Missoula. I came up with my topic, "The Cowboy Code meets the Medieval Code of Chivalry" after realizing the common denominator between my interest in Western and Medieval feudalism.  I'll contrast the two codes and read from DawnSinger, the first novel in my Tales of Faeraven series, to illustrate the concept of honor.    
After the book festival is over, my husband and I will visit the ghost towns of Virginia City, Nevada City, and Bannack. My interest in ghost towns is well-document on my Historical Worlds site, but another reason this excites me is because one of the items on my bucket list is to go on research trips for the books I write. I wrote about my upcoming trip in "Ghost Town Adventures" at my Beautiful Worlds travel site. Lately I've been rethinking the publication path of some of the genres I write, and so this month's author journal, "My Epiphany Moment", is all about that.  
If you'll be in Missoula for the festival, I'd love to say hello!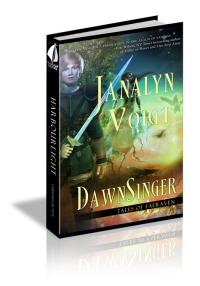 Need a good book to read?
DawnSinger, Tales of Faeraven #1 by Janalyn Voigt
A headstrong young princess and the guardian sworn to protect her fly on winged horses to the Gate of Life above the Well of Light in a desperate bid to release the DawnKing, and the salvation he offers, into a divided land. Will they each learn in time that sometimes victory comes only through surrender?
Purchase DawnSinger today!
©2013 by Janalyn Voigt