Liquid-eyed creatures with flowing manes that move like poetry itself, horses have long fascinated me. Not surprisingly, equines feature in my medieval fantasy novels. Combining my love of horses with another fascination (flying) produced the winged horses in DawnSinger, book one of my Tales of Faeraven epic fantasy series.
Medieval horses were ranked less by breed and more by quality and intended use, with the best reserved for nobility.
Read more at Christian Fiction Historical Society
©2014 by Janalyn Voigt
Subscribe to the Creative Worlds of Janalyn Voigt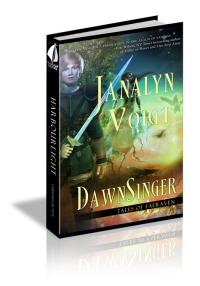 Need an escape?
DawnSinger, Tales of Faeraven #1 by Janalyn Voigt
A headstrong young princess and the guardian sworn to protect her fly on winged horses to the Gate of Life above the Well of Light in a desperate bid to release the DawnKing, and the salvation he offers, into a divided land. Will they each learn in time that sometimes victory comes only through surrender?
Purchase DawnSinger today!