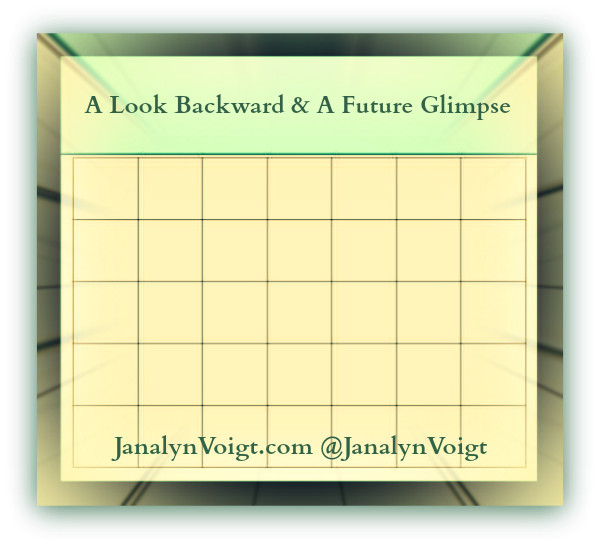 My Year in Review:  2013
The past year held its share of challenges and surprises, but always there's been an engaging adventure. I had hoped to finish DawnKing, the third novel in my epic fantasy trilogy, Tales of Faeraven, and I came within a few thousand words of meeting that goal. The unexpected intervened, however, in the form of a request from my agent for a romantic suspense proposal and sample chapters. I also had hopes of completing Elf Seeyer and I'm close to doing so, but rewriting my short story is turning it into more of a novelette or novella (we shall see).
None of my reasons for missing my self-imposed deadlines is bad–to the contrary–but this just goes to show that you can't know everything in advance and should leave room for margin. This is an area I struggle with, but I'll continue working on this important aspect of life as a writer.
This year I set aside a historical romance project indefinitely. I haven't given up on writing in this genre, but I'm trying to do things logically and in order. Being passionate about life makes it far too easy to undertake more than I should. I'm in this for the long term, so sanity must prevail.
I'd like to fully establish myself in the fantasy genre and break in as a romantic suspense author. After that, I'll be in a better position to make decisions. I do know that romantic suspense appeals to me greatly because I am able to introduce into it all the elements of my fiction: adventure, romance, suspense, history, and fantasy or whimsy.
My writing retreat group was gifted a stay in a mansion for a week this year, an unexpected blessing.
I was also surprised this year by an invitation to represent inspirational fiction at the Humanities Montana Festival of the Book. I combined attending the book festival with a research trip to Bannack and Virginia City ghost towns. I wanted to post about this trip right away but had tried out a new-to-me Canon camera on this trip. To retrieve my pictures, I had to purchase a card reader, but wound up buying the wrong one! That's all resolved now, so watch for this trip to be featured in a Literary Wayfarer travel journal soon.
What's Next?
Website: I'm planning to introduce a Literary Wayfarer podcast and post travel journals posted at my author site. Watch for further news on this. By the way, if you haven't seen the new design, stop by the website for author Janalyn Voigt and take a look. I'd love to know what you think of it. All of the background images are my original photographs.
Creative Worlds Blog: My idea about blogging across multiple domains turned out to be confusing for my readers. I'm glad I tried it because it helped me hone my thinking, but change is in order. The Creative Worlds Newsletter will continue to go out, and Fantasy Worlds, Dangerous Worlds, and Historical Worlds will continue to exist, but as book-extra sites for my readers rather than parts of an inter-connected blog.
None of this requires any action from you, but be sure to check the links in the newsletter to make sure you don't miss new updates at those sites, since you won't receive them as blog posts by email.
Romantic Suspense 
In January, I hope to edit the sample chapters and put together a proposal for the romantic suspense project.
My other romantic suspense goal is to write, edit, and produce Deceptive Tide, book three in the Islands of Intrigue: San Juans series I'm writing as a linked-fiction project with authors Lynnette Bonner and Lesley Ann McDaniel.
Fantasy:
I also hope to complete the last couple of thousand words of DawnKing, book three in my epic fantasy series, Tales of Faeraven, in January. I'd like to have it edited and ready to submit by April.
I'd like, also, to finish Elf Seeyer in January. It's so close! It sounds like I'll be taking a lot on in January, but it's mostly tying up loose ends. As long as there are no snags it should be possible.
Next year I'll research and write sample chapters for a new, multi-book fantasy project I have in mind.
Have you set goals for the new year?