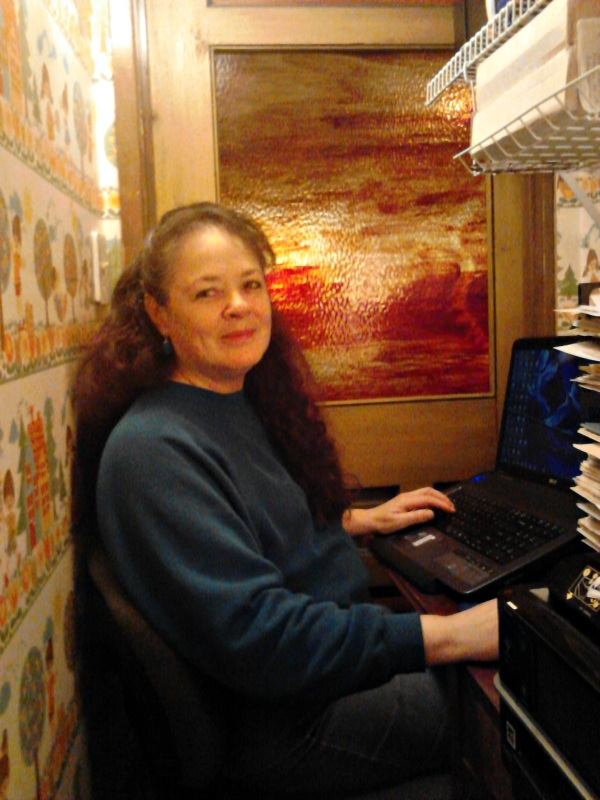 Ever since I moved my writing office into a three-by-seven foot cubbyhole under the stairs, my husband has had no end of fun with his wife being in the closet. Why did I abandon my roomy office in favor of such a cramped space? It happened a little at a time but has reaped a surprising benefit.
My Writing Office in a Closet
The story of my closet office began when I needed to put a sound booth together so I can read audio versions of my books and also start a podcast. The under-stairs closet in our house provided the perfect dead space for recording, so out came the Christmas decorations, to be relegated to a home elsewhere in the house.
I set up an old sewing machine table to use as a computer stand and managed to just fit a comfortable chair near the door. The long shelf above my work space demanded to be filled with something. So I decided to move my research books and binders to my closet office so I could take advantage of its quiet to study. But this left me with two office spaces plus the prospect of constantly moving my computer up and down the stairs from one office to the other.
Inspiration struck. I also used my upstairs office for personal planning, homeschooling, and as a guest room, so my writing supplies and files didn't really take up much space. In fact, as I soon learned, they fit easily into my new cubbyhole. My extensive library of books on writing topics or to read for review wouldn't fit, but a bookcase just outside the door solves that problem.
This closet apparently was once a playroom for children, created by a previous owner of our house. That's why it has a door with gaps that allow air to flow in and a stained glass window. The antique doorknob and vintage wallpaper showing children catching butterflies in nets, skateboarding, and flying kites add charm. When I first moved my office into the closet, I planned to pull the wallpaper off, but my husband surprised me by asking me to leave it intact. It turns out he loves it! I've marked that down on my long list of reasons I love this man.
I'm not sure if it's because of the happy childhood scenes and bright colors of the wallpaper or simply the peace and quiet, but I'm getting a whole lot more done in my writing office in a closet. As a bonus, family members interrupt me less. Either my being in the closet sends the message that I am working or else remembering to interrupt me has become too much of an effort.
I thought you would enjoy this look into my writing life. And who knows? I may inspire you to set up a private closet of your very own. If so, please email me a picture!
Did you know? You can receive free audio fiction through my (soon to begin) Story Circle podcast. You'll also learn more about my books, research, travels, and life as an author.  Join my Story Circle today! :o)