It's amazing how time at home can improve my mindset. That, and reaching the end of a difficult period of transition has me focused and happy. I've had to let go of a dream of publication in the western historical market, at least for the time being, but that sacrifice has opened the door to new adventures. In November I wrote about 23,000 words of a romantic suspense novel that, once polished, will go to my agent as part of a proposal she requested.
I hope to complete that in December, but we'll see whether holiday shopping and eggnog slow me down. I really need to finish the last couple of thousand words of DawnKing, book three of Tales of Faeraven, and polish that manuscript as well. And then there is, of course, the elf story I promised as a gift to my subscribers. It's doing well but in editing has morphed into a longer version of itself. Because of this, it is taking a little longer to complete than I anticipated. As you can see, I'm a little bogged down with projects right now. I usually just have one I'm writing and one I'm editing, but my wanting to offer the elf story has changed that balance.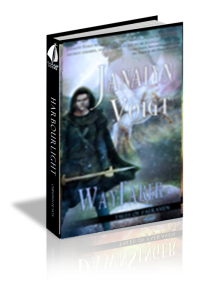 In addition to all that writing and editing, I'm gearing up for the launch of WayFarer, book two of Tales of Faeraven. It will be available on January 3rd, and I'll be mounting a launch effort February 1st. Look for more details in next month's newsletter.
I'm moving back to posting once a week from my Creative Worlds blog as I think twice-weekly posts are more than my readers are comfortable keeping up with. Also, this will help me carve out time for the podcast I'm planning to start in 2014 (details to come).
If you have fantasy readers on your Christmas shopping list, please consider purchasing DawnSinger, Tales of Faeraven book one, for gift giving. It is available through Amazon or other online bookstores.
That takes care of my author news for December. Until next time, here's wishing you a wonderful Christmas season.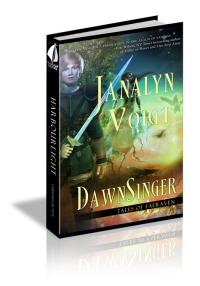 Need a good adventure?
DawnSinger, Tales of Faeraven #1 by Janalyn Voigt
A headstrong young princess and the guardian sworn to protect her fly on winged horses to the Gate of Life above the Well of Light in a desperate bid to release the DawnKing, and the salvation he offers, into a divided land. Will they each learn in time that sometimes victory comes only through surrender?
Purchase DawnSinger today!
©2013 by Janalyn Voigt