October Giveaway Winner and Product Review
This month's giveaway winner is featured at the end of this post. But first, let's give our benefactor center stage. MyMemories Suite won my respect by being both nimble and user-friendly, which is why I'm a MyMemories affiliate. I've used it to create many projects, website banners, stationery, business cards, calendars, and bookmarks like the one for DawnSinger, first book in Tales of Faeraven, my epic fantasy series. The front and back of the bookmark are side-by-side in the image, below.
I've never actually taken advantage of this software for its intended use, but as part of my simple life focus, I will at some point organize my digital images and challenge others to do the same. I'll personally be using MyMemories Suite software to make this happen. Even without belonging to the design club at the site or purchasing any additional scapbooking kits, it is possible to turn out some pretty cool scrapbook pages.
What I Like
The ability to use stickers and imprints, like flourishes, buttons, shapes, and medallions
The calendar feature, which can be used to create calendars for any year featuring your own images
The fact that the software sizes pages by pixels or inches (so you don't have to convert pixels to inches to size pages)
Numerous photo-editing capabilities, including croping, matting, drop-shadow, colorizing, special effects, mirror imaging, and orientation, at the touch of buttons
The Word Art feature, which lets you shape and design words
The ability to add clickable links and embed audio, video, music or narration
The fact that you can have your scrapbook pages professionally printed as photobooks
What I Don't Like So Well
Some of the stickers that come with the software seem a little cutesy to me. If that's what you like, you'll have a lot to choose from. Otherwise, you'll either be limited in your choices or need to add an additional design kit.
I want the photo editing to allow me to erase. That's not an option, and importing transparencies turns them black.
Saving a completed design to your computer puts it in its own file, by default, so you can wind up with lots of file folders.
It's not that difficult to accidentally save a new version over an old one when you wanted to keep both.
Likewise, it's not that hard to inadvertantly save a new version over an old one to your computer.
Importing additional scrapbook pages escaped me, and I never took the time to sort it out. This may be operator error rather than any fault with the program.
A Special Offer from MyMemories
If you purchase MyMemories Suite using my sharing code, you can get a $10 discount on the purchase of MyMemories suite from the website.  Sharing code: STMMMS54994 
You are welcome to share this code.
And Now for the Winner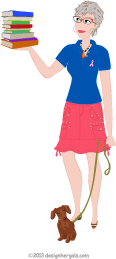 Deb Haggerty, who blogs at www.PositiveGrace.com , won a free download of MyMemories Suite digital scrapbooking software.  She promises to let us know what she thinks of the software. Thanks for use of such a great image, Deb!
About Deb Haggerty
She's a blogger, fiction editor (for Elk Lake Publishing), and speaker, and has been married to Roy over thirty years. They live in Plymouth, MA, along with Coki the Dog.
© Janalyn Voigt