I'm at the library right now. Our internet service provider decided to shut off our outdated modem, so I'm here to access the internet. They'll replace the modem, but that will take a few days. Of course, no time would be convenient for such a disruption, but at least I'm gleaning something positive.
I've wanted to try writing in the library for a change of pace but somehow never got around to it. This situation was just the push I needed. I probably won't be giving up my closet office, but working sometimes in a location where people are involved in reading or quiet study and I'm surrounded by books, well…I'll be back even after the new modem arrives.
I'm sitting in a comfortable chair at a desk with nothing on it but my computer. Outside the window is a grove of trees just leafing in, and every once in a while I glimpse birds on the wing. My youngest daughter has aptly named that grove Terabithia. It's not hard to imagine magical things happening there.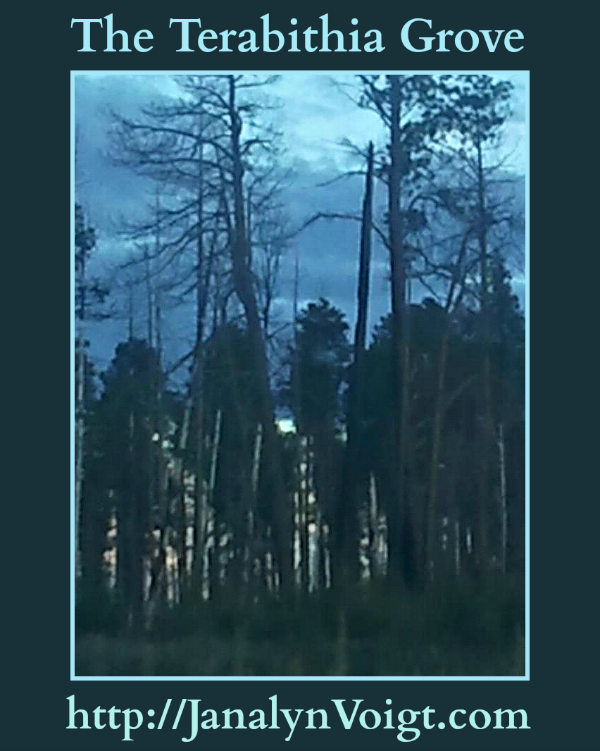 My Writing Progress
In March I wrote and edited the first chapter of Deceptive Tide, my contribution to Islands of Intrigue, a romantic suspense series set in the San Juan Islands. My chapter will appear in the back of Lesley Ann McDaniel's Tide Will Tell, book two in the series. Lynnette Bonner released The Unrelenting Tide, book one in the series, last year. You can order copies of this book, and also Lesley's when it becomes available, through my bookstore.*
If you've read my earlier posts, you'll know that I suffered a devastating illness and several setbacks that cost about three months of progress. It's nice to be restored to health and moving forward again.
First up is a romantic suspense proposal for my agent's review. The story is set in a castle during modern times.  I've reached the editing process for the sample chapters, so it should go quickly.
After that, I'll take up Elf Seeyer again, then complete DawnKing, book three in my epic fantasy series, Tales of Faeraven. I'd like to get these odds and ends taken care of before moving into writing Deceptive Tide.  
Speaking Engagements
At the moment I'm working on slides for a presentation on author branding for the NCWA Renewal Conference. This is more last minute than I like to cut things, which makes preparing a lot like finals week in college. Ah well. I'll survive and have fun teaching. 
Reading
I'm behind on my reading schedule these days, but I have managed to read Credara: Rise of the Kraylen
 by J.E. Henderson, Love's Sweet Beginning: A Novel (Sisters at Heart)
by Ann Shorey, and 52 Heart Lifters for Difficult Times: Promises of Hope and Encouragement from God
 by Diana Savage. You'll find my reviews of these titles in the Novel Books links.
I'm also reading The Time Traveler's Guide to Elizabethan England
by Ian Mortimer and Summer of Promise (Westward Winds, Book 1)
by Amanda Cabot. Next up will be The Dancing Master by Julie Klassen.
Upcoming Travel
I'm planning a short research trip to Orcas Island and San Juan Island, locations I use in Deceptive Tide. These islands are amazing places, although possibly not as cool as Terabithia.
How about you? Do you have any goals or expectations for April?
*Note: I receive a small commission at no extra cost if you purchase at Amazon.com through my affiliate links. 
©2014 by Janalyn Voigt