Izzy's Candy Cane Steamers
Novelists are notorious for being sentimental about their characters, and I'm no exception. When Hailey, the heroine of All I Want For Christmas, the first installment in the Sweet Serenades Christmas novella series, is rejected by the man she loves, her best friend Izzy comforts her with some conversation over a couple of candy cane steamers.
Before I wrote that scene, I had never heard of candy cane steamers, but the possibility that such a drink might exist popped into my head, and a quick search of the Internet assured me that it did. I was ridiculously happy about this, especially since research demanded that I taste this concoction. :o) I gleaned a general idea of what goes into this luscious beverage, and then put together my own better-nourishing version. I used both regular organic milk and chocolate almond milk for a little variety.
Disclosure: this article contains my Amazon affiliate links.
The Book That Inspired the Drink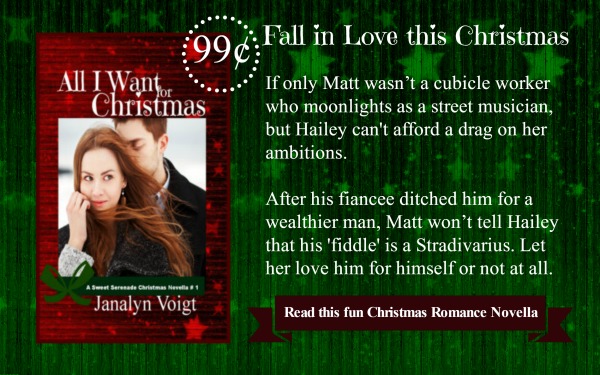 Looking for a little sugar this holiday season? Book one of A Sweet Serenade Christmas is available to read free on Kindle Unlimited or at the low price of just 99¢ for Kindle.
Hailey may just give up on men entirely. When Corey broke her heart, her best friend Matt helped pick up the pieces. Matt made his interest in her no secret when they first met, but seemed happy to accept a friendship, at least until now. With Corey looking her way again, Matt has started acting funny.
If Matt wasn't a cubicle worker who moonlights as a Seattle street musician, this could have been easy. Hailey can't afford a drag on her ambitions. She needs to climb the career ladder to keep her childhood home, all she has left of her parents.
After Amy ditched him for a man with more money, Matt isn't about to tell Hailey that the 'fiddle' he carries is a Stradivarius or that he owns a tuxedo. Let her love him for himself or not at all.

Candy Cane Steamers Recipe Notes
Most of the recipes for candy cane steamers call for candy cane syrup, which is made by melting candy canes in water. For this I purchased organic peppermint candy canes. It takes 22 candy canes to make 16-ounce beverages for 8 people. This includes the candy cane syrup, the candy canes you crush for the top of the whipped cream and the ones you use as stirrers. The recipe can easily be halved. Just remember to also halve the amount of candy cane syrup you make.
The trouble with candy canes offered for mass consumption is that they often contain high fructose corn syrup, artificial colors, and artificial flavorings.
I suggest using glass jars, because candy cane steamers are so pretty to look at. I used mason jars with handles, like these: Ball 16 oz plain drinking mug.
If you have an espresso maker, you could use that to steam the milk, but if you don't, you can either purchase a milk frother
or in a pinch use your mixer.
I used a mortar and pestle
to crush two candy canes for the topping, but you could probably use a rolling pin and heavy-duty zip-lock bag if you had to. It's nice if you leave some small chunks.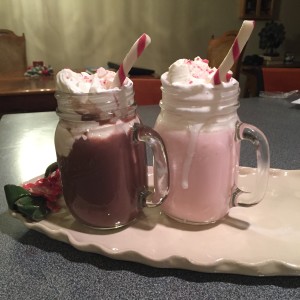 Izzy's Candy Cane Steamers
2015-12-05 23:53:44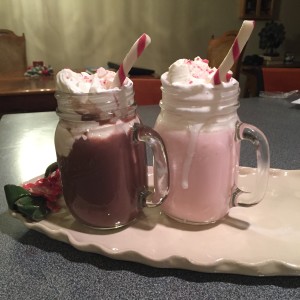 What could be more comforting on a cold winter's night than a warm and frothy peppermint steamer? Use organic candy canes and whatever version of milk you prefer for this luscious beverage.
Ingredients
10 6-inch Organic Candy Canes
Regular and/or Chocolate Milk (1 Gallon Total)
Whipping Cream
Special Equipment
Espresso Maker, Milk Frother, or Electric Mixer
Morter and Pestle (Optional)
Instructions
Follow the directions to make candy cane syrup.
Remove the wrappers from the 10 candy canes for this recipe.
Beat the whipping cream until stiff peaks form.
Crush two candy canes using a morter and pestle or rolling pin and dishtowel. Leaving a few small chunks adds texture.
Warm and froth the milk by one of the following methods: 1. Measure 2-3 Tablespoons candy cane syrup into mugs, then use an espresso maker to steam and froth the milk. 2. Or heat all the milk in a pan, remove from heat, add 2 Tablespoons candy cane syrup per cup of milk, then froth with a milk frother and pour into mugs. 3. Or warm all the milk in a pan, remove from heat, add 2 Tablespoons candy cane syrup per cup of milk, then beat with an electric mixer until frothy. Pour into mugs.
Spoon whipped cream over the steamed milk, top with crushed candy cane and insert a candy cane in each mug.
Store any leftovers in the refrigerator.
Janalyn Voigt http://janalynvoigt.com/