This month's author journal was written by one of my favorite historical fiction authors, Golden Keyes Parsons. I hope you will take the time to read her books, because I assure you they are totally worth your time.
In her guest author journal, Golden shares what it's like to be recognized as an author, and her take on this may not be what you would expect. 
Janalyn
Who Me? by Golden Keyes Parsons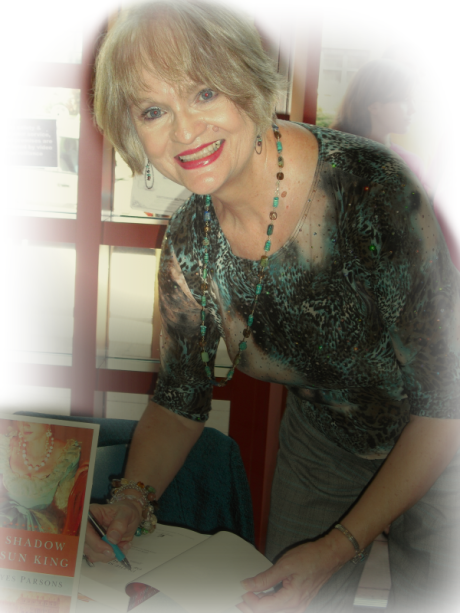 A young woman squealed and ran up to me on the crowded concourse of a women's event in Dallas. "Aren't you Golden Keyes Parsons?"
I nodded numbly.
"Oh! I just read your Darkness to Light series and loved every one of them. May I have your autograph?"
Our two adult daughters started giggling behind my back. I hardly knew what to do and honestly was pretty embarrassed. I gave the girl an autograph on a bookmark that I had with me (at all times J) and she left, glancing back and waving.
A couple of years later we visited a mega-church in a metropolitan city. On the way out I stopped by the library to see if they had my books on their shelves. I introduced myself.
Gasp! "You're Golden Keyes Parsons?"
"Yes, I am."
"Omigosh! You're my favorite new author!" The gushing continued, ending with my autographing several books and taking a picture with the librarian.
Of course, this happens all the time … uh, NOT! In all my years of writing, those are the only two times that has happened outside of my hometown.
My point is this: being a published author is sometimes conceived as a glamorous profession where best-selling novels fly into the hands of readers from some mysterious creative source who touches our fingers with the magic wand of Story Telling.
However, writing is not the glamorous career that it is cracked up to be, no matter what one sees in the movies. I won't say it wasn't flattering to have "fans" asking for autographs and recognizing me outside of a writers' conference or a book signing, but it's also interesting to me that most people look at being an author as something rather mystical or of star quality.
The truth is writing book after book and getting them published is basically hard work that one grinds out day after day. Then after that there is the grueling task of marketing the book.
There's really not much glamour involved.
Although, if one is called, it is fulfilling. Ministers are called; doctors are called; teachers are called. And to have one's work recognized is nice whether through awards or sales or good reviews or someone asking for an autograph—or an email saying that the reader was drawn to the Lord through the story. Frankly, I wouldn't want to be doing anything else.
Who me? Yes, it's me. A very ordinary person simply trying to craft to the best of my ability what God has put in my heart to share.
About the Author
Golden Keyes Parsons writes historical fiction, and is also a popular retreat/conference speaker. Her highly acclaimed Darkness to Light Series (Thomas Nelson Publishing) chronicled the journey of her French Huguenot ancestors in 17th century France. Her fourth novel, His Steadfast Love, is a Civil War novel set in Texas. Her latest releases are ebooks (WhiteFire Publishing) – a biblical fiction series entitled Hidden Faces, Portraits of Nameless Women in the Gospels. A print compilation of the four novellas releases April 15th, 2014. Golden lives in Waco, TX, with her husband, Blaine, where they enjoy their children, grandchildren and great-grandchildren and are avid sports fan of their alma mater, Baylor University. You can contact her at the author website for Golden Keyes Parsons.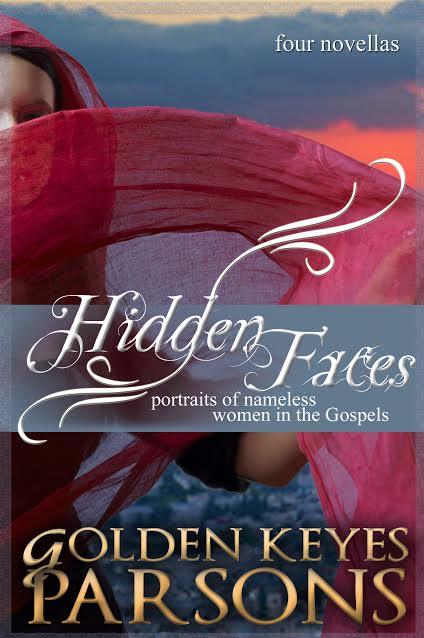 This collection of four novellas takes readers back in time and into some of the most well known biblical accounts, but some of the most mysterious.
Author, Golden Keyes Parsons, delves into the lives of four nameless women from the Gospels–the woman caught in adultery, the woman at the well, the woman who anointed Jesus's feet, and the woman who touched the hem of His garment.
Discover through the eyes of faith and fiction what may have made these women feel so Trapped, so Alone, so Broken, and so Hopeless that they would venture boldly into the path of Jesus … and leave forever changed.
Purchase Hidden Faces: Portraits of Nameless Women in the Gospels (four novellas).
©2014 by Janalyn Voigt