When the cover art for a novel evokes the mood of the story it represents, it's a win for the designer, publisher, and author. But the most important benefit is to readers. As an avid reader myself, I know the joy of pausing to gaze at a beautiful cover with characters who match their descriptions. That's why I'm celebrating the cover for my upcoming western historical fiction novel, Hills of Nevermore (Montana Gold, book 1), which releases February 1st. The muted colors, beautiful fonts, and dramatic images speak of romance and adventure in the wild west.
The look on the woman's face captures the heroine's cautious reserve. America Reed yearns to engage with life but hesitates because of her secret shame.
The man riding is circuit preacher Shane Hayes, bent on saving her while weighted down by his own past.
The wagon is appropriate because America lives in one on her way to the gold camps.
Note how the lines of the font in 'hills of' echoes the flourish beneath my name. Kudos to Lynnette Bonner, the cover artist, who also happens to be one of my dearest friends. We were both delighted to learn that my publisher wanted Lynnette to make the cover. It's fun to combine my own creative artistry with that of someone I know and love.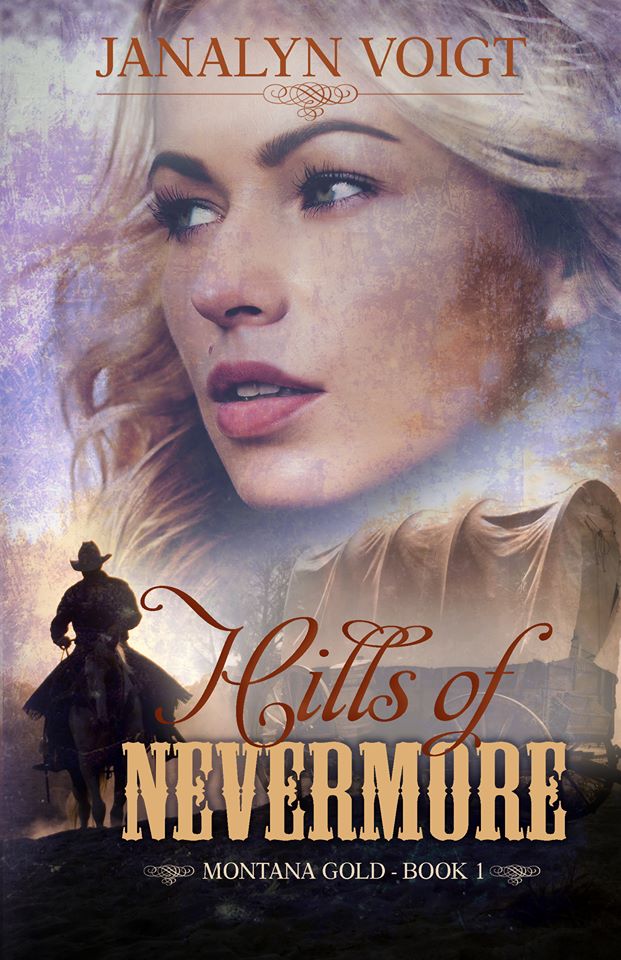 Can a young widow hide her secret shame from the Irish preacher bent on helping her survive?
In an Idaho Territory boom town, America Liberty Reed overhears circuit preacher Shane Hayes try to persuade a hotel owner to close his saloon on Sunday. Shane lands face-down in the mud for his trouble, and there's talk of shooting him. America intervenes and finds herself in an unexpectedly personal conversation with the blue-eyed preacher. Certain she has angered God in the past, she shies away from Shane.
Addie Martin, another widow, invites America to help in her cook tent in the new mining town, Virginia City. Even with Addie's teenage son helping with America's baby, life is hard. Shane urges America to depart for a more civilized location. Neither Shane's persuasions nor road agents, murder, sickness, or vigilante violence can sway America. Loyalty and ambition hold her fast until dire circumstances force her to confront everything she believes about herself, Shane, and God.
Based on actual historical events during a time of unrest in America, Hills of Nevermore explores faith, love, and courage in the wild west.