By now you will be recovering from eggnog, peppermint mocha, and/or fruitcake consumption and gearing up for your new year. That's pretty much the state I'm in too. With my email inbox filling up faster than I can empty it and several opportunities to grab at the turn of the year, I've been swamped. I won't say I'm entirely caught up, but I'm headed the right direction.
ACFW Book Club Pick
It's a dream come true to have DawnSinger published and WayFarer (Tales of Faeraven 2) on its way. That would have been delectable enough, but this cake has frosting. DawnSinger has been chosen as the March pick for the American Christian Fiction Book Club. This is a much-sought-after honor. I am currently giving away 4 copies of DawnSinger to book club members in a drawing. Enter through the American Christian Fiction Book Club.
Historical Romance Projects
My agent is sending a proposal and sample chapters for Hills of Nevermore, book one of a historical romance series set during Montana's gold rush. I'll keep you posted. I'm also working with my agency on a Christmas novella submission as part of a collection.  Due to the need to coordinate between the authors involved, the location of my story came as a surprise. This story has taken hold of me and won't let go. I'll say more when I can give details.
Romantic Suspense Project
I've agreed to write a romantic suspense novel as part of a linked-fiction series with talented authors Lynnette Bonner and Lesley McDaniel.  Lynnette and Lesley are part of a critique group I belong to, so we're used to working on one another's writing and have develop a high degree of trust and rapport. We're also all members of the Live Write Breathe retreat group. Each year we carve a week out of our schedules to go to some hideaway or other and write. Last year we rented waterfront property in the San Juan Islands, where our series will be set. We're entitling the series Islands of Intrigue. Lynnette is setting the first novel, The Unrelenting Tide, on San Juan Island. It will release in March. Mysterious Shaw Island takes center stage in Lesley's The Tide Will Tell. I'll feature Orcas Island in my contribution, Deceptive Tide. Watch for more details about this exciting new series.
Current Giveaways
I'm giving away two copies of DawnSinger on Goodreads.
The ACFW Book Club is hosting a drawing for four free copies of DawnSinger.
©2014 by Janalyn Voigt
Subscribe to the Creative Worlds of Janalyn Voigt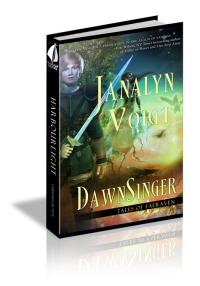 Need an escape?
DawnSinger, Tales of Faeraven #1 by Janalyn Voigt
A headstrong young princess and the guardian sworn to protect her fly on winged horses to the Gate of Life above the Well of Light in a desperate bid to release the DawnKing, and the salvation he offers, into a divided land. Will they each learn in time that sometimes victory comes only through surrender?
Purchase DawnSinger today!