No one can hear "Somewhere Over the Rainbow" without remembering Judy Garland. "Stormy Weather" summons thoughts of Lena Horne. And "My Way" brings to mind Frank Sinatra. Professional singers tend to steer away from Signature songs. Who wants to pair off against a masterful performance? The same phenomenon occurs in motion pictures with roles like Yul Brynner's King of Siam, Vivien Leigh's Scarlett O'Hara or Humphrey Bogart's Rick Blaine. Who but an amateur would dare challenge a classic?
J.R.R. Tolkien and C.S. Lewis helped establish the medieval fantasy genre created by George MacDonald and gave it a high standard for quality. In a sense, they scrawled their signatures across an entire genre. Authors who follow must inevitably write in their shadows and pit themselves in the reader's mind against their masterpieces. Cheap imitators have arisen in their wake, thus souring some readers on the genre as a whole. Tales of children sucked into another world, of dwarves, wizards and dragons have abounded in plenty.
Even so, original works of quality still find a loyal readership waiting for something worthwhile to emerge. Fans of medieval fantasy know this as a given. The Christian publishing world as a whole doesn't know this. Writers of medieval fantasy don't often meet with a favorable reception when seeking publication. The Christian fantasy genre sits on the edge of acceptability while publishers ignore the fact that fans flock to movies based on "The Lord of the Rings" and "Chronicles of Narnia."
© 2010 Janalyn Voigt
Want your summer reading to entertain and inspire?
Sun, July 11: Joy Tamsin David, Edgy Christian Romance
Wed, July 14, Dan Calabrese, Spiritual Warfare and the Edgy Christian Novel
Sun, July 18: Nike Chillemi, Edgy Christian Crime Fiction
Wed, July 21, Donna Dawson, Research For Edgy Christian Fiction
Sun, July 25: Janalyn Voigt, Edgy Christian Epic Fantasy Fiction – Medieval
Wed, July 28: Lisa Lickel, Outside Of The Box Romance
Sun, Aug 1: Michelle Sutton, Sensuality in the Edgy Christian novel
Wed, Aug 4: Sherryle Jackson, Edgy Urban Christian Fiction
Sun, Aug 8: Tracy Krauss, Edgy Romantic Suspense
Wed, Aug 11, Keith Madsen, Edgy Christian Fiction In The Ebook Market
Sun, Aug 15: Shawna Williams, Clean Doesn't Equal Christian
Wed, Aug 18: Tracy Kraus, Christian Theatre – Not an Oxymoron
Sun, Aug 22: Shawna Van Ness, Culturally Relevant Characters
Sun, Aug 29: Donna Fletcher Crow, Spiritual Authenticity in Fiction
Edgy Christian Fiction Lovers (Ning)
Edgy Christian Fiction Book Club (Goodreads)
Edgy Christian Fiction Lovers (Shelfari)
Gritty Christian Crime Fiction (Shelfari)
Inspirational Ebooks (Goodreads)
©2014 by Janalyn Voigt
Subscribe to the Creative Worlds of Janalyn Voigt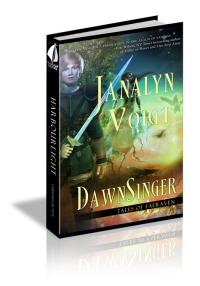 Need an escape?
DawnSinger, Tales of Faeraven #1 by Janalyn Voigt
A headstrong young princess and the guardian sworn to protect her fly on winged horses to the Gate of Life above the Well of Light in a desperate bid to release the DawnKing, and the salvation he offers, into a divided land. Will they each learn in time that sometimes victory comes only through surrender?
Purchase DawnSinger today!