The Clock is Ticking
My speaking engagements next year in part call upon me to teach others better time management skills, so it seems fair that I master it in my own life. Since taking on the role of writer, then contracted author, and now published novelist, my life has gotten more and more complicated. I've started taking irons out of the fire. Like any good cowgirl, I can only brand so many cattle at once.
Sometimes you have to let go of something that's good to make way for the new. This week I resigned from a group blog to which I contributed to make way for a new direction. Being involved in the blog wasn't negative, but I need to focus differently. Life is nothing if it's not about focus. Writing books, building this website, travel blogging, and taking beautiful photographs are all part of my defining direction. I find myself centering here with you and will continue to do so.
On the Domestic Side
Streamlining my life is not limited to the area of writing. I've begun bulk cooking sessions on the weekends I'm home to cover weekday meals. I'm pleased with the results. Not only have I saved money by having meals in the freezer when I'm tempted to eat out, but the time and money savings have been amazing. This works because I'm able to reuse knives and bowls, sometimes with just a rinse. For example, last weekend I made wheat rolls and Irish soda bread in the same bowl. If I had made them on different occasions, I'd have had to wash the mixing bowl twice. Bulk cooking also helps us eat better. When I've already rinsed and drained lettuce leaves, chopped onions, and made salad dressing, it's not that hard to throw together a salad for lunch.
We're in the process of adding in bulk shopping to the mix. In October we purchased a side of beef for our freezer, and in November it will be a side of pork plus an extra turkey to freeze for another month. In December we'll purchase wheat, sugar, citrus fruit, cranberries, pomegranates, figs, and dates.  We allot one half of our grocery money to bulk purchases. We don't know for certain yet, but shopping in this way should lower our grocery bills. Let me know if you're interested in having the bulk shopping list by month that I've put together and I'll post it in my next journal entry.
Another area that I've started speed-dialing is home duties. I've taken to heart the professional cleaners' method of doing all of one thing at a time throughout the house. I try to spend no more than an hour a day, although sometimes it still gets away from me. I'm also considering going to a checklist rather than to a daily rotation. So far my revamped cleaning schedule looks like this:
Monday: Decluttering Project
Tuesday: Sweep, Mop, Vacuum, Shampoo an Area or Room.
Wednesday: Scrub Sinks, Bathtubs, Showers, Counters, Toilets, and Kitchen Appliances.
Thursday: Remove Cobwebs and Polish Furniture.
Friday: Clean Glass, Change Lightbulbs, and Take an All-Purpose Cleaner to Walls, Switch Plates, and Doorknobs
Saturday (when home and willing): Clean the Deck, Garage, Outbuildings, and Yard
If you decide to try any of my systems, shoot me an email or comment and let me know how they work for you.
Future Travels
Least you think I've abandoned travel adventures for domesticity, never fear. Plans are in the works for next year's week-long Live Write Breathe retreat, which I organize for and with a group of other writers. We've batted around locations and have settled on one of two: a private mansion that has been offered to us if the dates work out or one of the San Juan Islands off the coast of Washington state.
There's also an upcoming family retreat, usually to somewhere along the coast of Oregon or Washington, so we can watch storms and challenge ourselves to endure an often-freezing walk along the beach. It's a strange tradition but uniquely ours. A research trip to a ghost town I'm writing about in Hills of Nevermore, my historical romance work-in-progress is in the offing for next year, and we'll also visit Yellowstone and a-yet-to-be disclosed location with my extended family.
Writing News
Historical Fiction: I received requests to read more of a manuscript my agent proposed to several editors at the conference I attended, so I worked hard and edited what I had written of that manuscript. That story is part of a series set in Montana's gold rush that I'm developing.
Fantasy: Before going on my Grand Canyon road trip I completed my publisher's requested edits for WayFarer, book two of my Tales of Faeraven epic fantasy series. I have yet to hear if there will be a second round of edits and I don't have a release date yet. I'll let you know when I know. Meanwhile, I'm gearing up to write DawnKing, book three of the series, in the beginning of next year.
I'll close this open letter with wishes for a safe and happy holiday season for you, dear reader.
Janalyn
©2014 by Janalyn Voigt
Subscribe to the Creative Worlds of Janalyn Voigt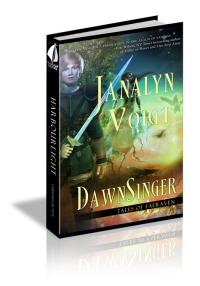 Need an escape?
DawnSinger, Tales of Faeraven #1 by Janalyn Voigt
A headstrong young princess and the guardian sworn to protect her fly on winged horses to the Gate of Life above the Well of Light in a desperate bid to release the DawnKing, and the salvation he offers, into a divided land. Will they each learn in time that sometimes victory comes only through surrender?
Purchase DawnSinger today!