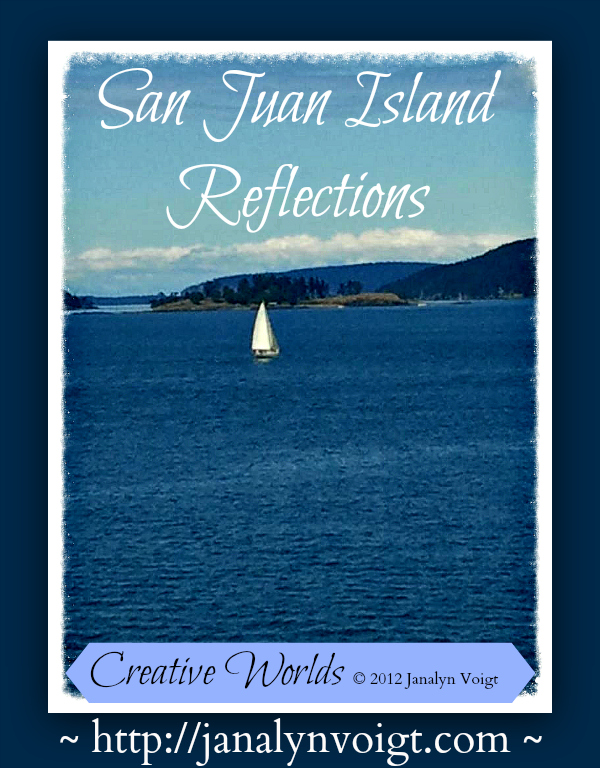 I just finished critiquing The Unrelenting Tide, the first romantic suspense novel in the Islands of Intrigue series, and I have to say Lynnette Bonner has done a stellar job of writing a page-turning novel. I wholeheartedly recommend it. Lynnette Bonner, Lesley McDaniel, and I have had a linked-fiction romantic suspense series in mind for over a year now, and it's nice to see it taking shape. Lesley McDaniel will be next up, with her Tide Will Tell set for a fall release. I'll follow next spring with Deceptive Tide.
Lynnette and Lesley are part of my private yearly retreat group. Last summer we stayed for a week on San Juan Island in order to work in a little research for our novels. Lynnette actually used the house we stayed in as the heroine's home in The Unrelenting Tide. In future posts I'll reveal more about the setting, plot, and characters within Deceptive Tide and even share a few excerpts, but for now I'll just treat you to some of the images I captured on that memorable trip. So kick back and enjoy a mental vacation!
I took the picture, below, very close to water level and not very far from the back balcony of the tri-level house where we stayed.  I love the roughness of the rock against the silken quality of the ripples and the light but cloudy sky above. If I could tell nature to pose, this would be one shot I'd construct.
Really, it seemed I could take no bad shots, that I had only to point and click my camera to come up with a shot worthy of framing. I fell in love with the San Juan Islands during this trip. I can still feel the island breezes on my skin and hear the lap of the waves.
The next picture shows the curve of the shoreline. I was actually standing on our back deck when I took this shot, which says a lot about how close to the water we were. I imagine the waves are pretty spectacular in the winter, but we had a bit warmer weather for our retreat and mostly peaceful seas.
We soon discovered a drawback to trying to write in the midst of such beauty. We often dropped whatever we were doing and rushed outside clutching our cameras and binoculars. Another distraction was that the sea air made us all sleepy. That may have been because the living room had so many large windows that you felt like you were outside. The soporific effect of the outdoors is of course well-known.
The shot below is my absolute favorite of those I took in the San Juan Islands. I love the contrast of light and dark, rough and smooth. I was on the back deck while photographing this image as well.
The photograph, below, isn't retouched. That's really the color of the water! I took this from the deck, also. It was interesting to watch the texture of the water change. Here is looks silken.
I leaned over a little to capture the image, below, while still on the deck. The water ripples back after hitting the shore.
Yes, I actually did catch the image, below, while on the deck. I'm not sure what the fisherman thought of six women crowding the deck to look at his boat.

)
I hope you enjoyed this small journey. I have more photographs from my visit to the island where my novel takes place to share another time. Be sure and sign up for Creative Worlds so you don't miss upcoming posts!
Click Now to Preorder and Receive an Autographed Copy on Release
She's been living a lie that could just get her killed…
Widowed former Hollywood actress Devynne Lang has been living a quiet life in the San Juan Islands of the Pacific Northwest. For years, she's hoped her fabricated death would keep her identity safe from the public, and more to the point, from the stalker who forced her into hiding. But strange things have been happening around her place and this time, with a daughter to protect, she can't afford one mistake ‐ even if it means letting Carson Lang get close enough help.
Carson would do anything to protect his brother's widow and her daughter. So when he discovers Devynne may be in danger, he vows to find the man responsible. But dead lead after dead lead frustrates and baffles. Until the unthinkable happens and he realizes the danger has been closer than either of them could have imagined the entire time.
…because lies always have a way of coming back to bite you.
Islands of Intrigue: The San Juans: Mysterious Harbors, Dangerous Shores, and Tides of Love
Tweetables
Need a mental vacation? Take a look at these images of the San Juan Islands! Click to Tweet!
3 writers team for Islands of Intrigue, a romantic suspense series kicking off in the San Juans. Click to Tweet!
There's a drawback to writing in the midst of great natural beauty. Really! Click to Tweet!
Islands of Intrigue, a new romantic suspense series, starts out with locations in the San Juans. Click to Tweet!
Romantic Suspense #books: @LynnetteBonner @LesleyMcDaniel @JanalynVoigt launch Islands of Intrigue! Click to Tweet!
Yes, @JanalynVoigt actually did catch most of these images while standing on a deck! Click to Tweet!
Escape into worlds of beauty and danger, San Juan Island style! Click to Tweet! 
©2013 by
Janalyn Voigt
Subscribe to the Creative Worlds newsletter and/or blog!