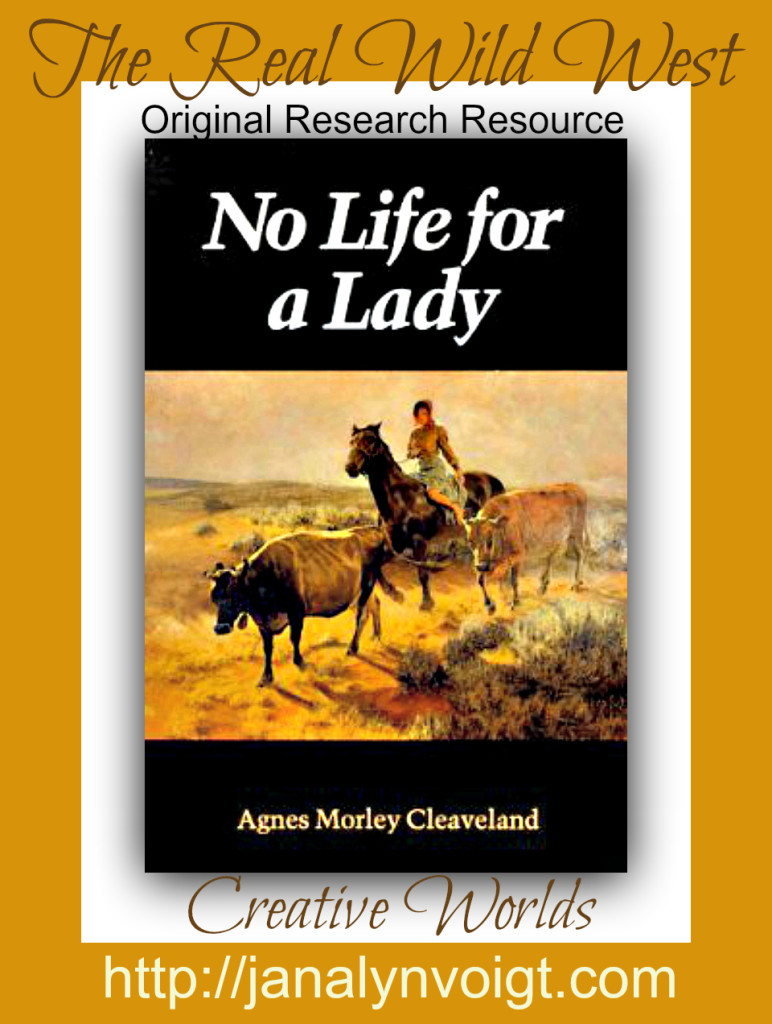 I cut my teeth on tales of the Wild West and spent many a happy Sunday afternoon hunkered down with a bowl of popcorn as cowboys rode their horses across my television screen.
The lure of the American West still has a hold on me. But how much of the western mystique can I believe? Was it as violent as its reputation? In short, what was the West really like?
In search of answers, I've read orginal diaries and other documents, scoured countless original photographs, visited museums, retraced the Oregon Trail, and investigated ghost towns like Bodie, California. As I gear up to write my Montana Gold series, I'm still researching. This summer I'll bring you along via my travel journal and photographs as I embark on a research trip to Montana.
Today, I offer one of my original research resources, No Life for a Lady (Women of the West)
 by Agnes Morley Cleaveland. First released in 1874, this book provides a first-hand account of growing up in the Wild West. It offers not only the author's experiences, but also fascinating glimpses into the culture as a whole.
My favorite passage was when Agnes described playing on top of a log fence that surrounded a horse pasture. With her were some unusual companions. Besides her brothers and sister, there was a young fawn named Spotty, the goat who had adopted the fawn, a cat, a rooster, and bringing up the rear a bear cub named Josh. A burro and milk-pen calf ran alongside. Every so often Agnes's brother, Joe, would step onto the burro's back, to be followed by the rooster who generally went where he did. In the author's words: "The burro tolerated them, but never Josh."
Ever wonder how mail delivery went through in the remoter parts of the West? According to Agnes, the most common method was to "put a kid on a horse." It wasn't uncommon for children to ride alone for even 20 miles at a time to deliver mail or messages. This seems to argue against the feudal-mentality we've come to associate with the Wild West. What happened to fear of outlaws and Indians?
Interestingly enough, Agnes felt more threatened by the coyotes who sometimes trailed her. While she and her family were forced to leave their home once during a time of tension and were thankful to be spared, at other times fear of Native Americans didn't play a large part in their existence. Agnes encountered more than one outlaw. Incidents that stood out were her childhood encounter with an outlaw who rode into her mother's ranch dropping with exhaustion and one she met as a teenager while riding alone in the middle of the night. The first gave her his spent horse and the second greeted her mildly and let her pass. He died that night in part because he wasn't willing to frighten her by exchanging her fresh horse for a worn-out one.
Women were usually treated gently in the West, even by outlaws. As Agnes put it: "We didn't have the horror crimes of today." That's a telling statement, and one I'm still pondering.
If, like me, you are curious about the Wild West, No Life for a Lady (Women of the West)
by Agnes Morley Cleaveland is a must-read.
What have you wondered about the West?
Note: Janalyn Voigt is an Amazon Associate and benefits when products are purchased at Amazon.com through her affiliate links.
©2013 by
Janalyn Voigt
Subscribe to the Creative Worlds newsletter and/or blog!