I'm delighted to post the covers for DawnSinger and WayFarer, the first two epic fantasy books in my Tales of Faeraven series. Artist Nicola Martinez did a beautiful job capturing my story's essence. 

Sometimes victory only comes
through surrender.
About DawnSinger
book one in the epic fantasy trilogy, Tales of Faeraven 
Kai, a Guardian of Faeraven, delivers the dying High Queen's summons to Shae, a princess of Whellein. Together they fly on Kai's winged horse to Faeraven's High Hold, where all is not as it seems. Visions warn Shae of danger, and a dark soul touches hers in the night. Although Kai is pledged to protect her, when Shae meets an attractive but disturbing musician, no one can save her from her own wayward heart.
To fulfill prophecy, Kai and Shae must reach the Well of Light before the Daystar completes its arc of the sky. On a perilous journey, they battle Garns, giant raptors and even the wraiths of their own regrets.
Can they find a way to release the DawnKing — and salvation — into a divided land?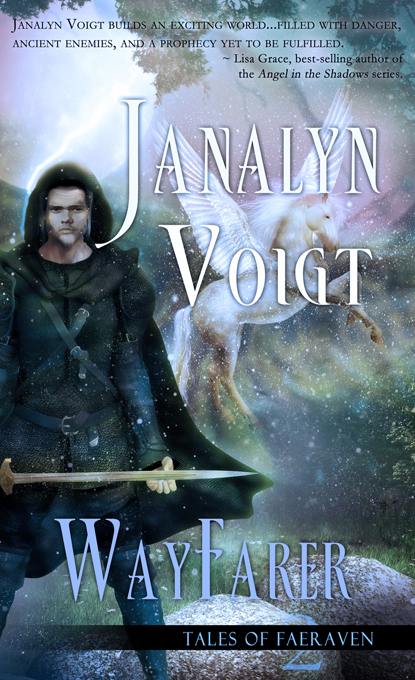 About WayFarer
book two of the epic fantasy trilogy, Tales of Faeraven
Elcon, an untried youth, assumes his duties as High King. But as trouble stirs between nations and rebellion threatens Faeraven, his position is far from secure. The Guardian, Kai, returns from the Cavern of Death without Shae, Elcon's sister. Can Elcon trust Kai's claim that the Elder youth accompanying him is the DawnKing of Prophecy, sent to deliver Elderland from the enemy known as the Contender?
Driven to prove himself, Elcon embarks on a peace-keeping campaign into the Elder lands, where he meets a beautiful Elder princess. But Aewen is betrothed to another, and Elcon has promised to court the princess, Arillia, upon his return. Declaring his love for Aewen would shame them both and tear apart the very fabric of Faeraven.
Elcon's choices lead him into the Vale of Shadows, where he learns that to deliver his people, he must first find his own redemption.
 
©2014 by Janalyn Voigt