Cheyenne Sunrise Launch Giveaway Drawing
Winner chooses one of three prizes!
Celebrating the Launch of Cheyenne Sunrise
Cheyenne Sunrise (Montana Gold)
A young Irish widow has no choice but to trust her half-Cheyenne guide with her life, but can she trust him with her heart?
Romantic Times: "The second book in the Montana Gold series has romance, secrets, adventure and the perils of being a part of a wagon train to journey to a new destination. The plot flows evenly with some unexpected but well-worth-the-wait secrets. Janalyn Voigt is a talented writer and brings to life the long-ago wild west with vivid descriptions of the landscape.

Bry is done with men trying to break her down after she is sacked from her job because of inappropriate advancements by the son of her employer. She decides to start over in Montana. She and her brother are on their way to their new home, traveling with a wagon train. They both know it's dangerous and they will need to rely on others, which can be tricky at the best of times. Maybe with the help of their trail guide Nick they will make it in one piece to their new home. Nick tries to keep his feelings for the feisty Irish miss, Bry, hidden, as he has a job to do and is responsible for everyone in the wagon train. As the son of a white man and a Native American woman, Nick feels he does not belong anywhere, and he is hoping this trip will help him decide which world he truly wants to be a part of. When the trip turns into survival, he and Bry will need to trust one another to see another sunrise."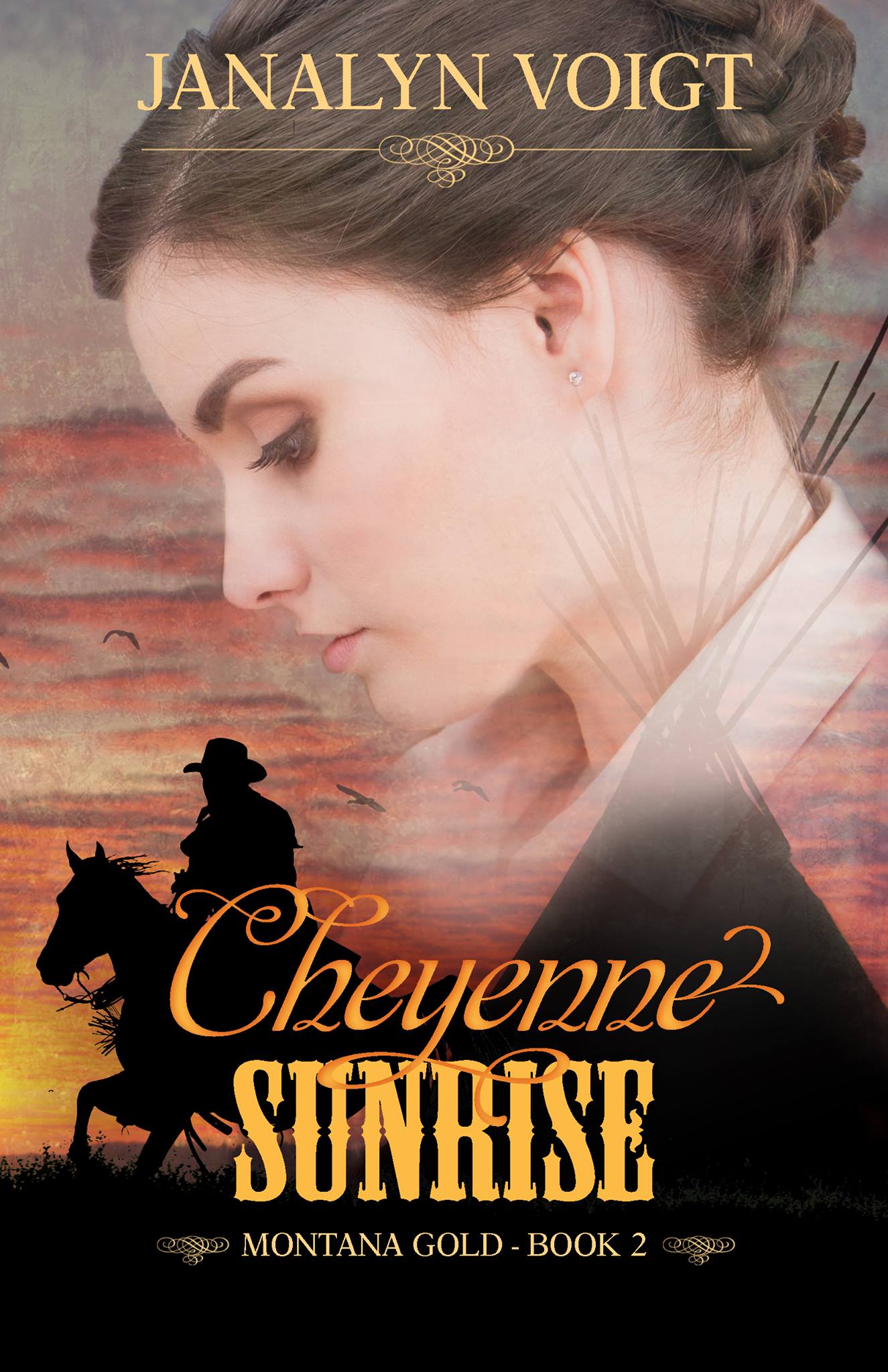 Enter the Cheyenne Sunrise Launch Celebration Sweepstakes!

I value your privacy and would never spam you
No purchase necessary to enter. Limited to residents of the continental United States.
As a bonus, you will receive the Creative Worlds of Janalyn Voigt monthly e-letter. You may unsubscribe whenever you wish.
Drawing will be held March 1, 2018. Winners will be notified at the email address given within a week from that date. Failure to respond within a given amount of time will disqualify the entrant, and the winner will be redrawn. For more information, see the full giveaway and contest rules.

Winner Chooses One of Three Great Prizes!

Kindle Fire

Load a digital copy of Cheyenne Sunrise and/or your other Kindle books onto this Amazon Fire HD 8 Tablet Case (7th Generation, 2017 Release) in charcoal black.

$30 Gift Card

A Visa gift card! Spend it on a book light and neck pillow so you can read Cheyenne Sunrise in bed or ??? You decide.

Cheyenne & Celtic Music CDs

The Irish heroine of Cheyenne Sunrise would enjoy this Celtic Woman Voices of Angels CD. And the half-Cheyenne hero would be familiar with the flute strains in Fire Crow.
Janalyn Voigt
Janalyn Voigt is a multi-genre novelist who has books available in the western historical romance and epic fantasy genres. Her unique blend of adventure, romance, suspense, and whimsy creates worlds of beauty and danger for readers.
An inspirational, motivational, and practical speaker, Janalyn has presented at the Northwest Christian Writers' Renewal Conference and Inland Northwest Christian Writers Conference. She has also spoken for local writing groups, book events, and libraries. Janalyn is represented by Wordserve Literary and holds memberships in American Christian Fiction Writers and Northwest Christian Writers Association.

From the Back Cover
Can a woman with no faith in men learn to trust the half-Cheyenne trail guide determined to protect her?
Young Irish widow Bry Brennan doesn't want another husband to break her spirit. When she and her brother Con join a wagon train headed to Montana Territory, Bry ignores her fascination with Nick Laramie, the handsome trail guide.
Nick lives in an uneasy truce between the settlers and his mother's tribe without fully fitting in among either. With no intention of dragging a woman into his troubles, he stifles his yearning for Bry.
The perilous journey throws the two together, leaving Bry no choice but to trust Nick with her life. Can she also trust him with her heart? Answering that riddle forces Bry to confront her unresolved questions about God's love.
Based on actual historical events during a time of unrest in America, Cheyenne Sunrise explores faith, love, and courage in the wild west.
Launch discounts available for a limited time only...
$2.99 for Kindle and $12.99 for print.