Have you ever resolved to do a thing, only time slid by and somehow you never got to it? I know I have.
It happens with no effort. Everyday needs shove aside all progress, and my plans for change fade until sometimes I forget I even made them. It takes effort to push back, but that's the only way to bring about the better life I dream of living.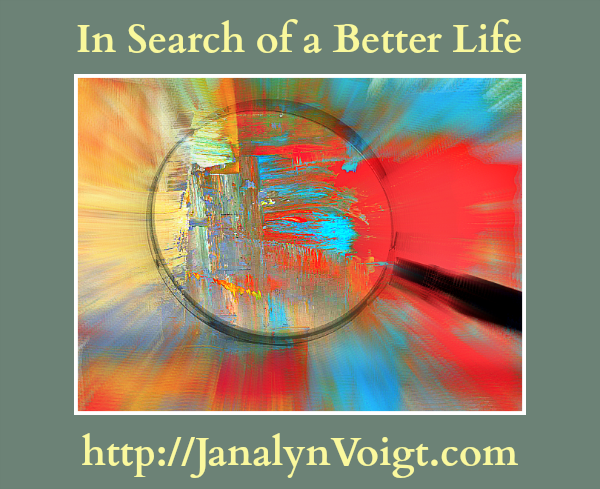 I can see it now.
My decluttered house stays clean without sapping my time and energy. Laundry doesn't spend the night in the washer. Nourishing meals regularly hit a beautifully-set table around which my family gathers without being called more than once.
Ah, me! There's more. I feel like a kid with my nose pressed against a candy-store window as I see myself making time to exercise and for self-care. As a result, my skinny clothes no longer languish in a box beneath the bed.
It gets even better. Quiet times, candlelight, and soft music sustain my soul. Prayer is something I linger over with no interruptions, and I study the Bible with rapt attention.
There's also time to socialize with friends, visit family, and go on outings. Money isn't an issue because my husband and I manage it so well. Library books never hide in messy bedrooms and make their way to the return bin with time to spare.
Parenting looks a little different, too. My children pick up after themselves and help with the chores because I have invested in teaching them to do so. We read, talk, watch movies, and play board games together on a regular basis.
Health care isn't overlooked in my better life. All members of the family are up to date on dental care, eye exams, and medical check ups. Even the pets have spent quality time with the vet.
And of course, I have time for the hobbies I enjoy.
That was a nice moment. Now let's get real. I may not accomplish some of my ideals, even if I try. However, if I allow inertia to rule me, none of them are likely to happen.
It's tempting to tackle all areas that need improvement at once, but having to pare back my own expectations of my writing career has taught me the value of a limited focus. I'm going to start with personal improvement and also an area involving cooperation from others.
This month I'll work on establishing some weight loss goals and with my husband on corralling our finances.
Care to join me? If so, let me know and I'll  post more on this topic.
©2014 by Janalyn Voigt